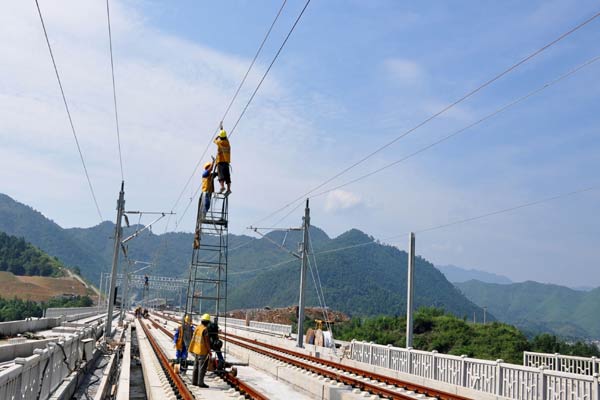 Railway workers maintain power lines along a high-speed rail track in Beijing, In 2013, the country had 103,144 km of track, including 11,028 km for high-speed rail, the longest such network in the world. CHINA DAILY
High-speed lines likely to account for at least 10 percent by 2030, adviser forecasts
China's railway track should total more than 200,000 kilometers by 2030, in line with the nation's economic goals, and at least 10 percent of it will be for high-speed rail, the former chairman of China's largest rolling stock producer told China Daily.
"To achieve the GDP goal for 2020, China should have 150,000 kilometers of railways in 2020 and 200,000 in 2030," said Zhao Xiaogang, former chairman of China South Locomotive and Rolling Stock Co Ltd, and an adviser to the China Institute for Innovation and Development Strategy.
The report of the 18th National Congress of the Communist Party of China stipulated that by 2020, the country's GDP and per capita annual income of urban and rural residents should be double the 2010 levels.
Zhao said that in 16 years, China's high-speed rail will total at least 20,000 km. Ten intercity express railways will be set up then, as well as trains connecting cities to their suburbs.
In 2013, the country had 103,144 km of track, including 11,028 km for high-speed rail, the longest such network in the world.
China also should step up to develop border railways, mainly in the Xinjiang Uygur autonomous region, the Tibet autonomous region, the Guangxi Zhuang autonomous region and Yunnan province, Zhao said.
He added that trade, logistics and tourism will offer three major opportunities to the Xinjiang Uygur autonomous region, based on constructing an Asian-European railway.
"Further developing domestic rail can promote urbanization construction and decrease the logistics cost of commodities," said Zhao. "It also makes people's lives more convenient and is good for tourism."
Domestic railway investment between 2013 and 2015 will come to 3.2 trillion yuan ($515 billion), he said. From 2016 to 2020, it will reach 4.8 trillion yuan, and from 2020 to 2030, 8 trillion yuan will be spent.
China Railway Corp, the State-owned rail operator, introduced a new service schedule on July 1 to meet booming demand from the public.
The new plan, marking the most significant changes since 2007, increases the number of passenger trains in service to 4,894, of which 2,660 are high-speed bullet trains running at speeds of more than 200 km per hour.
Zhao also said China should step up its globalization pace.
Premier Li Keqiang has promoted high-speed rail technology during his many overseas visits, including a visit to Britain in June.
CSR signed a contract in June with the national railway of Macedonia to sell six bullet trains to the European country, which is the first time it has made sales in Europe.
Ou Guoli, a professor at Beijing Jiaotong University, said China should innovate its investments and financing systems in developing its railways.
Government financing and bank loans are the main way to raise funds, but they cannot meet the demand of China's railway construction at home and abroad.
"We should encourage more railway companies to go public and set up railway industrial investment funds to finance money from the public," Ou said.