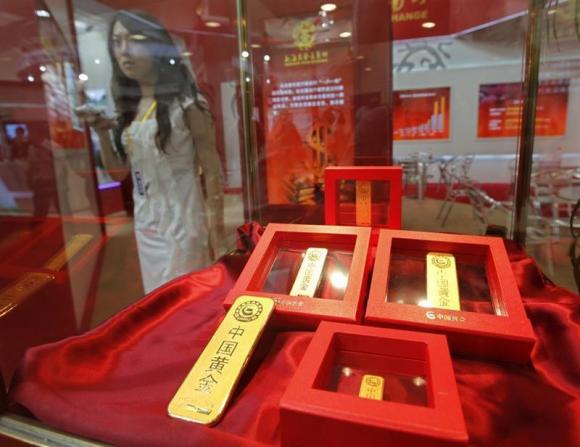 A Shanghai Gold Exchange employee stands beside gold bars displayed at the China International Exhibition on Financial Banking Technology & Equipment in Beijing September 9, 2010. [Photo/Agencies]
China has approached foreign banks and gold producers to participate in a global gold exchange in Shanghai, people familiar with the matter said, as the world's top producer and importer of the metal seeks greater influence over pricing.
The Shanghai Gold Exchange (SGE) got the go ahead from the central bank last week to launch a global trading platform in the city's pilot free trade zone, a move that could challenge the dominance of New York and London in gold trade and pricing.
Beijing's plans to open up gold trading comes at a time when the benchmark price-setting process for precious metals is under scrutiny. Barclays Plc became the first bank to be fined over attempted manipulation of the 95-year-old benchmark London gold market daily "fix" last week.
State-backed SGE has asked bullion banks such as HSBC, Australia and New Zealand Banking Group, Standard Bank, Standard Chartered and Bank of Nova Scotia to take part in the global trading platform, two people approached by the exchange said.
SGE, the world's biggest physical gold exchange, where domestic banks, miners and retailers buy and sell gold, could also open up the international platform to foreign brokerages and gold producers, they said.
"China wants to have more voice in gold prices," said Jiang Shu, an analyst with Industrial Bank, one of 12 banks allowed to import gold into China. "The international exchange is the first step towards gaining a say in gold pricing."
"If you don't allow foreign players to participate in your market actively, or do not push Chinese financial institutions to participate in the international market, then China's strong gold demand is only a number, not a power," he said.
HSBC and Standard Bank declined to comment, while the other banks and SGE were not immediately available for comment.