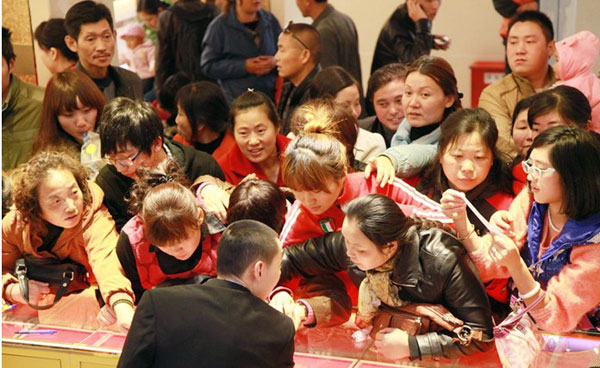 The freefall of gold price stirs Chinese consumers' spending spree on gold in 2013.[Photo/people.com.cn] 
With a heavy sigh, Zhang Xiuhong slammed the drawer where she had stashed away dozens of gold panda coins that were issued in 2013. During the May holiday last year, Zhang hopped on a train, joined the flock of gold hunting Chinese dama, marched all the way down south to Hong Kong from Shanghai and bagged all the gold she could get her hands on.
"My relatives in Hong Kong helped me buy these as gold sells out fast," said Zhang displaying her trophies – gold wrapped in plastic bags.
"I can't sell these as I will lose more money, now I can only put them away," said Zhang, "I won't buy gold blindly like this again."
Dama is a term in the vein of "aunty", which can be addressed to any middle-aged woman whether you are related to her or not. It was used to refer to Chinese women who jumped at the chance for what they deemed a bargain and sweeping jewelry stores across the nation when the gold price was low last year and the press hailed the Chinese dama for defeating Wall Street.
The exhilarating scenes of Chinese dama buying out all the gold in every jewelry store has gone sour with the gold price continuing to fall since the second half of last year.
"The reason behind the gold craze last year was because from 2008 to 2011, investors were minting money every time the gold price was adjusted." Li Jun, special consultant at The Shanghai Gold Exchange, told China Economic Weekly. "With many banks and gold stores launching all kinds of marketing strategies, Chinese dama bought gold with strong expectations and the carrying cost averaged $1,500 dollar per ounce (296 yuan per gram)."
By May 5, the settlement price of gold futures in June on the Comex division of the New York Mercantile Exchange was $1,309.3 dollars per ounce (259.12 yuan per gram). According to statistics from Wind Information, the retail price of gold slumped to 330 yuan from 400 at Shanghai-based Laofengxiang Jewelry since May last year.
Chinese dama do not even have a remote chance of breaking even in a year since the gold value has fallen 15 to 20 percent, said Li.
Qu yiwen, who works at a gold store in Hong Kong, does not see the gold buying craze like last year anymore. "We had to stock up every day because the demand was big," Qu said, "but not so much this year, the deals between gold stores and travel agency have been suspended too."