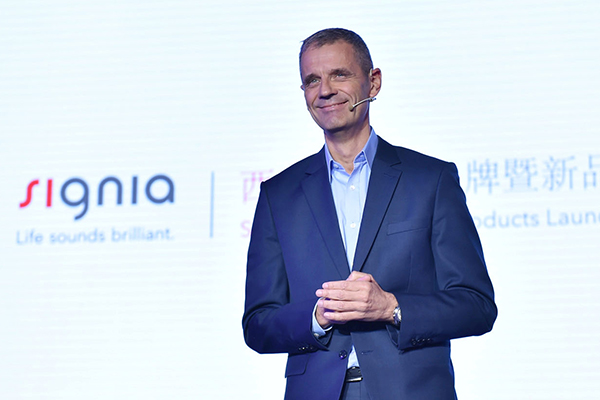 Roger Radke, CEO of Sivantos Group, speaks at the launching ceremony of Signia in Beijing on October 25, 2016. [Photo provided to chinadaily.com.cn]
Sivantos Group, one of the leading hearing care and aid service providers in the world, unveiled Signia, a new high-end hearing aid brand in Beijing on Tuesday.
"China is undoubtedly an important market for us, and we are the market leader here," said Roger Radke, CEO of the Germany-based group that acquired the hearing aid arm from Siemens in 2015.
A series of hearing aid products and a hearing technology platform Primax were also launched at the press conference.
In an exclusive interview with China Daily website, Radke shared his expectations for China.
How did Sivantos perform last year? What's your forecast for this year?
Sivantos had positive performance in the last year. We have experienced strong double-digit annual growth in the past 21 years, since we started operation in China.
How about China? How much did the Chinese market contribute to your business?
China was undoubtedly very important for Sivantos Group, as it has become the second largest hearing market in the world.
How do you see the opportunities and challenges for your company in China?
With the development of economy, more elderly will desire to enjoy the better hearing world. Hearing aids will be the best choice for them. More potential customers will start to upgrade their quality of life. Meanwhile, as a leading company, more and more customer education resources will be put in that might increase our marketing cost.
China recently reported the Q3 GDP growth of 6.7 percent, what do you think about the market outlook?
There are some data showing that China's GDP growth this year may maintain 6.7 percent. This speed of development is astonishing taking the whole world into consideration, and Sivantos is fully confident in the future development of the Chinese market, and we will keep exploring and invest more in the future.
How much do you invest in China every year and in what ways?
We invested the most part of capital in product development in the past 21 years. The global manufacture center in Suzhou is our largest production base in the world.
What's your company's biggest achievement in China's market?
Sivantos has the perfect hearing service points with hearing experts in China that support us to provide the best products and hearing consulting to hearing loss people.