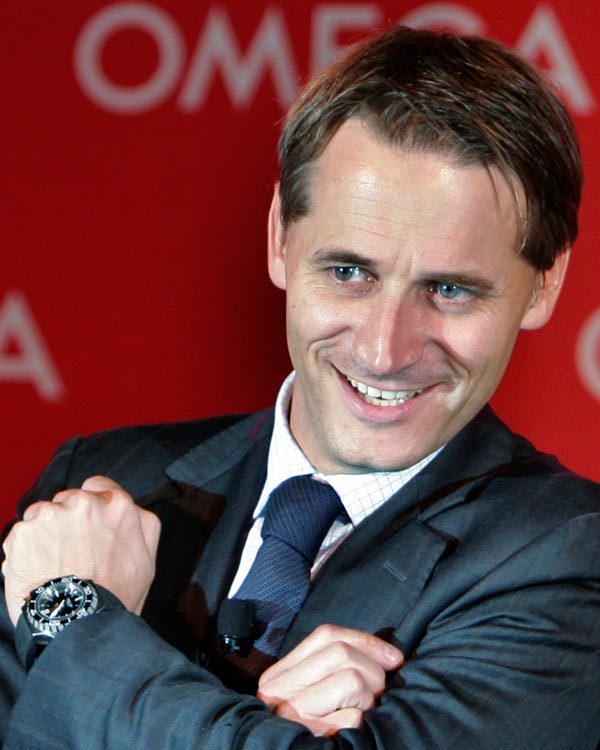 Raynald Aeschlimann, president and CEO of Omega SA. [Photo/Agencies]
Omega sees no change to Chinese love affair with the time-honored brand, says its chief
Raynald Aeschlimann, global president and CEO of premium watch producer Omega SA, first came to China about 20 years ago.
He said he has visited a lot of cities in China over the years, including Kunming, Lijiang, Harbin, Chengdu, Chongqing, where he has found a strong affection for and appreciation of Omega, the official timekeeper of the Rio 2016 Olympics.
Now Chinese consumers are better informed and savvy, but Aeschlimann says he doesn't see too much change in the Chinese love affair with luxury watches. One of the most famous Chinese Omega owners is actress Zhang Ziyi.
"We have more than 600 people working in our stores and six offices in China, and Chinese consumers represent the biggest population buying Omega all around the world," he says.
The following are edited excerpts of his recent interview with China Daily.
Who is the typical Chinese owner of an Omega watch? Why? Can you name several celebrity owners?
With Omega, there are no typical owners. We have so many different collections and models; each watch attracts a different kind of buyer. However, one thing is true of all Chinese customers. They appreciate good quality and a refined style. Omega is a very aspirational brand and I think our Chinese customers put a lot of value on the excellent craftsmanship of our timepieces. They understand what makes an Omega special and they make their watch choice based on design, excellence and heritage. Some of the most famous Omega wearers include George Clooney, Cindy Crawford, Zhang Ziyi and Nicole Kidman.
Would you talk about the sponsorship relations between Omega and golf in the past and the future?
Golf is a passion of the Omega brand and it's one of our commitments to help grow the game around the world. Until now, that has included partnerships with the PGA of America, the LET and the title sponsorship of tournaments such as the Omega European Masters, as well as several tournaments in Dubai. Of course, we have also partnered with several excellent ambassadors such as Rory McIlory and Shanshan Feng. Into the future, we will see how much further we can go. The return of golf to the Olympic Games was a big moment and Omega proudly acted as the Official Timekeeper. I hope we can continue with this sort of association.
What's been your biggest achievement as the CEO?
It's only been a short time! But Omega's success as the Official Timekeeper of the Olympic Games in Rio was a very proud moment for me. As well as keeping time in every single event, we also had our Omega House on Ipanema Beach and a hospitality program that included many important guests and friends. It was a lot of work and involved a lot of strategy and passion. For me, we achieved exactly what we wanted and needed to do.
What's the secret of your business success in China?
The historical relationship plays a major part. Omega has been in China for a long time and it has allowed us to establish in the market here our qualities of precision and beautiful design. We have grown to understand the Chinese market and our customers have grown to know and love our products. So it works both ways.
What's an effective leadership for leading a company engaged in China business? How has your style of management changed over time in China?
It's important to always remain true to your brand values. I often get asked if Omega will change its marketing or design approach due to the current economic challenges. While some others may do that, Omega is intent on retaining its high standards in every area. As a leader, you have to be strong and keep persisting with your innovative ideas no matter what challenges you face. That's important for somewhere like China, because our customers have standards they expect from our watches and we can't be seen to be going backwards.
How do you get along with local partners?
With local partners, our key objective is to maintain trust and openness. Partnerships are strongest when both sides feel respected and equal. I have been traveling and visiting our local partners in China for a very long time. Now, after around 50 visits to the country, I have a very deep and emotive understanding of the people I work with. I always cherish our discussions which are based on very successful partnerships.
How do you motivate your international team?
With a brand like Omega, there are many ways to motivate an international team. First and foremost, it's important to remind them of what Omega is and where it has come from. We have such a proud history and an inspirational story. That in itself is motivational. On top of this, I want to encourage each international team to be entrepreneurial. They should see Omega as their own business and look for their own innovative ways to progress the brand in their market and push it into the future. It's important to give them the confidence so that they can be ambitious and enterprising. Finally, I always keep a deep and personal contact with many of the team members.
How do you handle hardships and setbacks, if any?
You have to learn from every challenge. In business and in life, there are some hardships that are unavoidable. They are beyond your control. So you have to be philosophical and look for the positives. If you can understand why it happened and what you can do if it happens again, then you will always benefit.
What do you think about the Chinese Dream? What are your own dreams or ambitions in China?
China is a fascinating country. It is innovative and progressive and I think that mirrors the spirit of Omega. In terms of business, China is incredibly important for so many brands. Omega's dreams for China are all about growth. We want to continue reaching as many customers as possible, which means extending our reach with new boutiques in areas such as Central China. We want to be more accessible. As I said before, Omega and China share a special relationship and we want to continue that into the future.
What are your hobbies? How do you spend your time off duty while in China?
I love to spend time with my family. We live near the lake in Switzerland which is a great place for outdoor activities or a healthy run. In China, simple pleasures are the best. The great food, especially Sichuan cuisine, visits to cultural places always allow me to relax.
CV
Age: 45
Career:
June 2016 onwards: President and CEO of Omega SA
2013: Member of Swatch Group's Extended Group Management Board
2010: Swatch Group coordinator for the Indian subsidiary
2004: Director of Omega US
2000: Director of Omega and Blancpain Spain
1996: Sales and marketing project manager, Omega SA
Education:
Majoring in economics and MBA from the University of St. Gallen