Local firms target Chinese scientists from Silicon Valley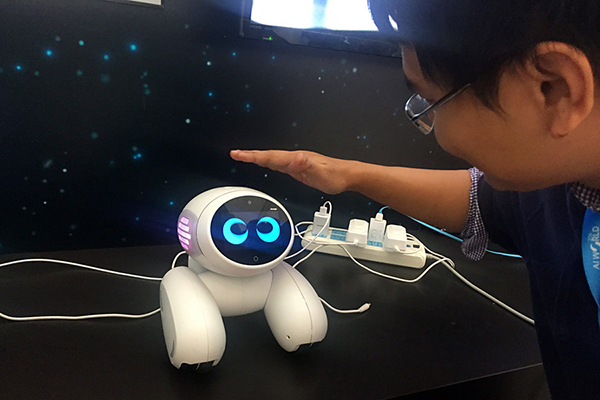 A man interacts with an artificially intelligent (AI) robot at the 2016 AI World Expo, held in Beijing on Oct 18, 2016.[Photo/People's Daily Online]
Race on to hire expertise, researchers with big salaries to boost AI and other tech sectors
Chinese companies are actively targeting overseas scientists and researchers in California's Silicon Valley, in a move to attract them to China and boost the development of the country's information technology industry, according to a recent report.
The quarterly report for October to December, released by Hays, a leading global specialist recruitment group, shows that the rapid development of the country's IT industry is providing golden opportunities for well-educated overseas Chinese nationals to seek developing their careers back in their home country.
"Artificial intelligence scientists with broad experience are highly in demand by Chinese companies," said Simon Lance, managing director of Hays in China.
"In order to boost their future skills pool, Chinese companies are also looking to form partnerships with top international engineering universities in a bid to secure future graduates."
Lance added that as information technology has become one of the main driving forces of China's economic progress, employers were trying to lure more overseas returnees to help them tap into a market with huge potential.
"In the so-called 'first year' of new technologies, virtual reality, augmented reality, intelligent driving and other new technologies gradually have entered into the public's sight," said Zhao Ziming, an analyst at Beijing-based internet consultancy Analysys International.
"Backed by abundant funds, IT firms and internet companies now have a high demand for expertise," Zhao added.
"Compared with Western countries, China is more likely to develop and introduce these new technologies, which to some extent attract more overseas Chinese to seek opportunities back in China."
Hays also noted that with a belief that the burgeoning local market would benefit their career development, there was now a trend of overseas Chinese returning home.
"Aside from the lure of potentially higher salaries offered by Chinese employers, overseas candidates are also convinced about the potential of the market, given the rising popularity of the internet and the fast-growing penetration of smartphones," Lance said.
"They also have a sense of achievement, since their knowledge and skills are critically needed by Chinese organizations to spur economic growth."
A report released by 2016 China (Shenzhen) IT Leaders' Summit Organizing Committee showed that last year the revenue of China's IT industry totaled 15.4 trillion yuan ($2.3 trillion), an increase of 10.3 percent year-on-year.
According to the report, technological innovation will promote industrial restructuring, and intelligent technology will open up a new industrial era. In addition, drones, self-driving technologies, artificial intelligence and other intelligent technologies were expected to enter the stage of application and large-scale production.