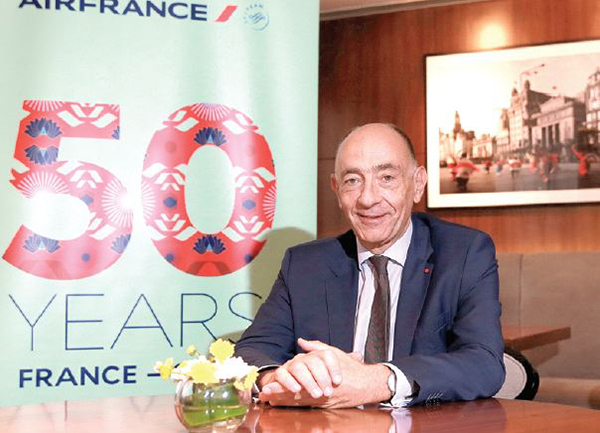 Jean-Marc Janaillac, chairman and CEO of the Air France-KLM Group. [Photo provided to China Daily]
As the first European carrier serving China, Air France-KLM vows a continuous bespoke service for the market
Air France-KLM says its passengers will be impressed by the many new Chinese cultural features it is now offering on its services between China and Europe-including Chinese interpreters and a lavish Chinese menu.
The changes have been customized for the Chinese market by the aviation group, which boasts long links to the Chinese market. Air France launched its Paris-Shanghai route way back in 1966 with its Boeing 707 "Chateau de Cheverny". It was the first European airline flying to China, and the first international flight from China to the West.
This September, less than two months after taking up the position as Chairman and CEO of the Air France-KLM Group, Jean-Marc Janaillac made Shanghai his first overseas destination, as part of the 50th anniversary to mark the launch of the landmark link between China and Europe.
Janaillac recently talked with China Daily about the airline's strategy. The following are edited excerpts from the interview.
What is the impact of the slower economic growth on your business?
Plane travel is directly linked to economic growth. Right now not only routes between China and Europe, but also other international routes are seeing less demand. All the airlines are affected.
We have a very good revenue management system, which enables us to do better than our competitors in terms of the reduced revenues.
Although the economy and global situation are not as strong as before, I think the market is going to see a healthy growth of Chinese tourists to Europe.
And our partnership with China Eastern and China Southern allows us to have direct connections to many Chinese cities.
What's Air France-KLM's biggest achievement in China?
Air France and KLM were the first European airlines to fly to Beijing, Shanghai, Guangzhou, Hangzhou, Chengdu, Wuhan and Xiamen. We have been investing continuously to strengthen our network connecting Europe to China. Today, Air France-KLM is the leading European carrier in terms of capacity from Europe to China and we will maintain our focus to further enhance our products, services and destination possibilities in China.
How have your online ticket sales on Alibaba's e-commerce platform performed?
It's worked. Since February our online sales has grown significantly, by between 10 percent and 15 percent, while our traditional business is a bit down.
We expect to greatly enhance our online sales revenues for Air France-KLM in China, and to promote the group's recognition among Alibaba's huge consumer database.
What can an aviation group do to tap into China's rapid e-commerce growth?
We have online sites to sell our tickets and today, nearly one-third of our worldwide tickets are sold online. Our overall goal is to sell 50 percent of tickets online, worldwide, within a couple of years.
In China we are looking into the development of Alitrip, and we are trying to develop similar partnerships in other parts of the world, in case it is relevant.
In China you have a lot of group travel to international destinations and these groups cannot yet be sold online.
To what extend has the recent political upheaval in Europe affected your business?
Of course terrorist attacks in Europe impacted the number of passengers (who) chose our airlines this year, especially from China.
We have seen quite an important decrease from group travelers … and the Schengen visa process is also having a negative impact on the number of Chinese tourists going to Europe.
But we are quite confident that we are going to see a rebound in 2017, since the situation has stabilized now.
We have made a series of efforts to convince Chinese travelers that it is interesting and safe to go to Europe. Group trips from China to Europe are down 40 percent from the beginning of this year.
What is Air France-KLM's current presence and market share in China? How important is China to your global growth strategy?
Normally we do not share our market share figures for competitive reasons, because we are a listed company.
This summer, Air France-KLM is offering a total of 90 weekly flights to nine destinations in China from its two hubs at Paris-Charles de Gaulle and Amsterdam-Schiphol airports.
How have you modified your products to appeal to Chinese customers?
Since 1966, Air France has implemented tailor-made services for all customers travelling to and from China, before, during and after their trip.
We offer the most innovative products on our Chinese routes: new travel cabins, personalized services, and products developed exclusively for Chinese customers.
At Paris-Charles de Gaulle airport, we have a special team of staff speaking Mandarin and Cantonese who are available to assist customers with arrivals, check-ins and when they have connecting flights.
What's the secret of your success?
I don't have a secret. Just a commitment to the company I have worked with. I am very proud to have this position, but I'm also quite aware of the challenges we face.
I was a board member of Air France between 1989 and 1993. This is a job you must do with efficiency and passion.
How do you define effective leadership in a multinational company?
The first is to give a vision, a strategy in order for people to work out what and why they are doing what they are doing, and in which direction the company is heading.
The second is to decide and make the decisions.
The third direction is to employ people, to engage and to motivate them, to give people a desire to follow and reach their goals.
In order to do that, you have to provide an example of management with respect and integrity.
What are your hobbies?
I like reading, visiting interesting modern architecture, running and playing tennis and swimming in my spare time. I used to be a very good wind surfer and I used to ride horses.
CV
Age: 63
Birthplace: A small village in the southwest of France not far from Bordeaux.
Education:
1975: Graduated from the HEC Business School
1980: Graduated from Ecole Nationale d'Administration
Career:
July 2016 onwards: Chairman and CEO of Air France-KLM Group
2012-16: Chairman and CEO of TRANSDEV
2010-12: Chairman and CEO of RATP Dev
2004-10: Managing director of group development for RATP
Family: Single