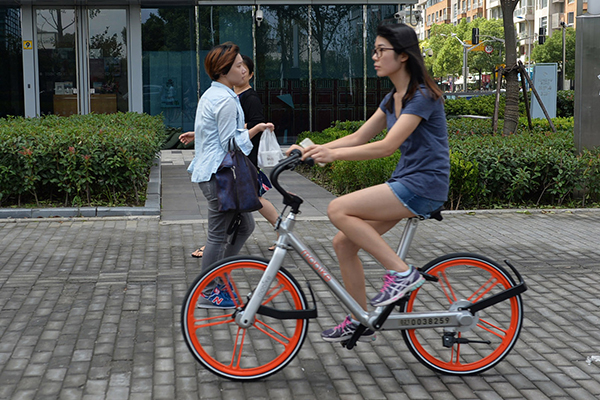 A woman rides a Mobike in Shanghai. [Photo/China Daily]
In a metropolis like Beijing, what's the best way you can think of to spend only a single yuan ($0.15)?
That is the amount I usually give to a street beggar, or I can use it to take a bus. I hadn't see many other choices-until I started using Mobikes.
Seemingly overnight they are sprouting up in Beijing. Though not yet ubiquitous, I see them from time to time, parked randomly on the sides of the street or whizzing past me with a rider peddling on it.
Their bright orange color and stylish design make them stand out from other bicycles.
They don't have a roller chain as most common bicycles do, which makes me wonder how the power is transmitted to the back wheel. The tires are tailor-made so they don't need a pump to inflate.
More distinctively, they are "smart". Fitted with a microchip and GPS (global positioning system), a Mobike can record the route it travels, and enables the users to locate the nearest one using an app on their smartphone.
Of course I did not know that when I first chose to use a Mobike one morning the other day, on my way to hospital to see my father who was ill.
There is no direct bus service to the hospital, and the nearest stop is two kilometers away. Usually I would walk the distance, but that day, when I got off the bus and saw a Mobike parked on the street side, with words "scan to unlock" and "one yuan per use" (I found out later that means a 30-minute ride) on the back of its saddle, I could not resist the temptation and decided to give it a try, purely out of curiosity.
It took me several minutes to download the app and register after scanning the quick response code on the middle part of the handlebars. I had to provide my personal information such as name, ID card number and mobile phone number, as well as a 299 yuan security deposit-refundable after the ride-which I paid using my WeChat account.
Then it was time to ride. For years, I had lost my interest in riding a bicycle after having losing several to thieves, with my last one stolen just days after the purchase 11 years ago.
I don't know whether the fact that it is now safe to leave such a fancy bike on the street is made possible by the nation's growing material prosperity, improved law enforcement or technological advancement. But, what a sea change it has been compared with the era decades ago when a bicycle was considered a family luxury in the country, just like private cars nowadays.
So I was happy to relive the enjoyable experience of yesteryear. The seat is unadjustable, and the bicycle is a little too heavy compared with a common one. I found out later it is designed to generate power throughout the ride to keep its "smart" system running.
Still, I enjoyed the ride, feeling rewarded not only by honest sweat, but also by helping to curb climate change. After I locked the bicycle upon arrival, the app showed that I had consumed 100 calories and saved several hundred grams of carbon emissions.
My first ride was fee-free, and fees for later uses are paid through my WeChat account.
So how could the company behind the service make a profit? Mobike has reportedly put several thousand bicycles on the streets in Beijing and is ready to provide more to cultivate a green commuting culture.
It is estimated that if one Mobike is used 8 times per day, it can recoup its 3,000 yuan cost in one year. After that, it brings in profit.
Given the huge user base in the "kingdom of bicycles" and growing demand for a green life style, the business prospect should be rosy, so long as the Mobikes do not end up in the hands of thieves.