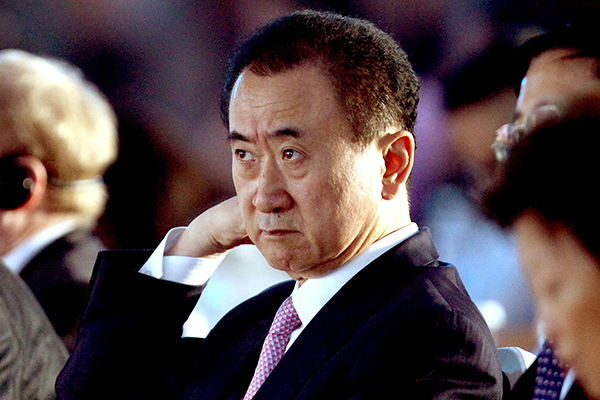 Wanda CEO Wang Jianlin at a conference in Beijing. [Photo/China Daily]
It's been a year since I've relocated from India to work in China. I've an old habit of mentally tracking business groups and their bosses, and figuring who's the tallest of them all.
Every year, in my mind's eye, the clear winner of the fantasy competition receives the "Businessman/Corporate of the Year" award.
The methodology used is utterly unscientific, arbitrary and downright mad-not my words but a summary of what others, particularly fellow journalists, say on WeChat and WhatsApp.
But, the one-and-only judge's decision is final. Too bad if you disagree (but you may well agree). Read on only if you must. Any injury to your sense of justice and fair play would be entirely self-inflicted.
And the 2015-16 award goes too... But first, the contenders:
1) Alibaba/Jack Ma: Online sales festivals like Singles Day are crazy, fun. Digital payment systems, startup funding, cross-border e-commerce, overseas investments, buyout of SCMP, initiative for a world digital platform for cross-border e-commerce by small businesses... have all made headlines. But share price woes on the NYSE, early believer SoftBank's sale of part of its Alibaba stake, and a US SEC probe into possible violation of securities laws have dented the behemoth's image.
2) Didi Chuxing: Swift nationwide expansion, Apple's $1 billion investment, followed by capitulation by its bitter, dollar-bleeding rival Uber have made Didi a worthy contender, but not a winner. For, when confusion over the legality of ride-hailing arose, Didi didn't exactly display proactive leadership of a fledgling industry.
3) Gree, Midea, Haier, Hisense, TCL and DJI: These appliance and gadget makers showed remarkable capacity for innovation and panache in warding off competition from Japanese/foreign firms. Be it intelligent products, web-connected factories, customized production, multipurpose drones or cookers for specific varieties of rice, they have done it all. But branding at a global level isn't still their strength.
4) Huawei: Clearly gave both Apple and Samsung some sleepless nights, and overtook Xiaomi in China. Not a world-beater yet.
5) Xiaomi: Seems to have lost its plot. Smartphone shipments are down. Diversification into appliances, PCs and support for new startups aren't exactly reaping rich dividends yet.
6) Lenovo: After the IBM deal and foray into smartphones, hasn't really done anything earth-shattering.
7) LeEco: Gadgets, devices, content, apps, electric driverless vehicles-it's into too many things, but is yet to gain the critical mass of a conglomerate.
8) Baidu: Talk of Google's return to China hasn't energized China's internet search giant. Its Uber investment lost its sheen as Didi prospered. But Baidu bestrides web search like a colossus.
9) Tencent: The all-inclusive WeChat is the envy of WhatsApp, Line and SnapChat. Alibaba's share woes made Tencent Asia's biggest tech firm. Big-ticket investments in gaming, music and autonomous electric cars have reflected an appetite for corporate glory.
10) SOEs (power, steel, coal, auto, railway and aircraft companies): They cut huge deals globally, or sewed up expansion or joint venture plans; started making things locally; valiantly fought the overcapacity demons; some even returned to profitability, with steel firms upgrading products to supply to the auto industry that saw joint ventures with global giants on one side and advent of e-vehicles on the other.
11) Fosun, Vanke, Anbang: Hit headlines, but not always for the right reasons. Also-rans.
12) Disney Shanghai: Opened in June, made a media splash and a positive impact on Shanghai realty. Deserves more time before being judged.
By the way, telecom firms and banks didn't qualify this year.
So, the winner is...
Wang Jianlin/Dalian Wanda Group: Wang-led Wanda has hit the global headlines throughout the last 12 months. Consider: buyout of Hollywood film studio Legendary, overseas cinema chains and European football clubs; creation of infrastructure like soccer academies; sponsorship of coaching camps; partnership with FIFA; setting up of theme parks to rival Disney and Universal; clever delisting of property arm from the Hong Kong bourse to relist in Shanghai; gaming forays; and amid all this, finding time for an English book, luxury home shopping in London, philanthropy and sparking an online buzz with comments on how to make billions (by making small millions over and over again).
The world recognizes Wang and Wanda. You'll agree and see there's method in my madness, won't you?