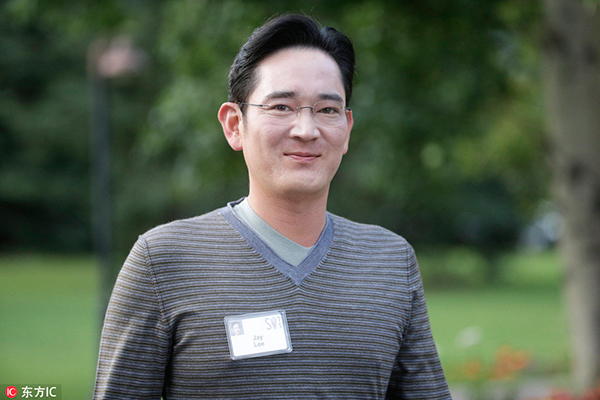 Lee Jae-yong. [Photo/IC]
Samsung Electronics Co nominated Lee Jae-yong to its board to allow the son of its ailing chairman to take a more active role in strategic decision-making.
Shareholders will be able to vote on his appointment at an investor meeting scheduled for October, the Suwon, South Korea-based company said in an e-mailed statement on Monday.
Chairman Lee Kun-hee has been hospitalized for more than two years after a heart attack in 2014, with his son gradually taking a more active role in the direction of the company during that time. Samsung is the world's biggest maker of smartphones, memory chips and TVs.
The shareholder meeting will also vote on the company's decision to sell its printer business to HP Inc for $1.05 billion.
HP has agreed to buy Samsung Electronics Co's printer business for $1.05 billion, betting that it can grab share and generate income, even in a shrinking global market.
The deal will add to earnings in the first full year, Palo Alto, California-based HP said in a statement on Monday.
As part of the agreement, Samsung has committed to buy $100 million to $300 million worth of HP shares on the open market after the acquisition closes, the companies said.
For Samsung, the divestment is part of a longer-term push to focus on more high-growth areas.
"The sale of printers makes perfect sense because the world of paper is going away," said Mark Newman, an analyst at Sanford C. Bernstein in Hong Kong. "Printers don't have much future.
It's all going to be screens and Samsung is the biggest display maker in the world."
"This is a major strategic move for HP," Enrique Lores, president of Imaging, Printing & Solutions at HP, said on a conference call.
Bloomberg