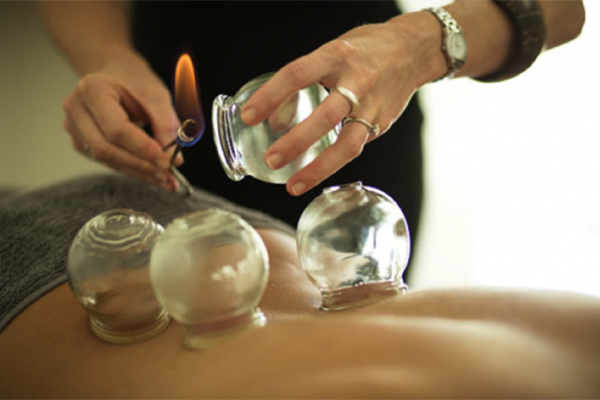 A therapist preparing a cup with fire. [Photo/Agencies]
The other day several friends and I were chatting about cupping, a traditional Chinese therapy to relax leg, back and shoulder muscles, when one of them bent down and showed off red marks from the "fire cup" below the back of his neck.
Another friend pitched in, saying that he had also tried it, after the Rio Olympic swimming star Michael Phelps touted its benefits on social media. But he had opted for rubber cups with an air pump that would produce less efficacy than the "fire cup", but leave no trace.
When I was a child, I learned from my mother who was a specialist in traditional Chinese medicine about how cupping worked. The glass "fire cup" sucked the skin over the areas of discomfort after the heating created a vacuum. While such cupping might be the most effective with soreness or pain, it would create obvious large circles that were often associated with gangsters in the old days.
Now they could also be the evidence for recent visits to massage parlors that are most common providers of the service, but a professional would shun or at least be discreet about them amid crackdowns on extravagance and activities with negative connotations.
The ancient cure and the street-corner "therapists" were poised for a rare, precious boost recently after a flurry of media reports of Phelps and other sports and Hollywood stars swearing by the treatment. Suddenly, people have greater respect for it and they are more open about the experience.
However, it seems massage parlor operators have not seen an Olympic-sized business opportunity in the newfound popularity of cupping and other traditional treatments that they offer on their premises.
Ironically, while they work hard to convince users about curing effects of their services, this is often the kind of things they want to do but not to talk about in public.
One main reason is that massage outlets and their workers have operated in murky areas when they practiced traditional Chinese treatments. While Chinese regulations require such treatments to be given by hospitals, enforcers have turned a blind eye to less complicated therapies like cupping at massage parlors, although workers need to have a license and training.
But with loose monitoring and rising labor costs, managers are not motivated to hire licensed therapists and provide proper training. Due to cutthroat competition, parlors have also taken the high-end path, shifting from a cheap foot soak and rub to expensive massage packages that include cupping as a minor item.
At a large foot massage establishment near my home, a package complete with foot and hand reflexology, and a back massage ranges from nearly 200 yuan ($30.3) to almost 1,000 yuan when it involves a herbal steam sauna.
Walk-in visitors can still order cupping, a pedicure or ear-picking that each costs 58 yuan for a 20-minute session. But workers say that they don't welcome customers who come just for these side dishes without ordering a main course.
With the economic slowdown leading to cuts to entertainments expenses, all parlors have found their existence hinging on cajoling customers into buying luxury packages and prepaid cards that keep them coming back, as well as improving cash-flows.
Massage is a serious business in China. Beijing alone boasts about 8,600 massage parlors employing 200,000 workers. Nationwide, the industry employs many millions of migrant farmers or retrenched urban workers.
But almost all are struggling to find a solid, long-term business model. The Olympics-induced buzz about cupping and other forms of Chinese healing could have been a new impetus to the occupation. But, it has turned out to be an opportunity squandered as the business continues its pursuit of short-term profits.