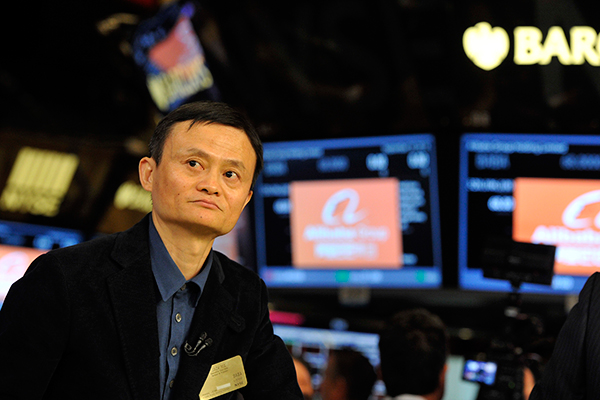 Jack Ma, founder of Alibaba Group Holding Ltd. [Photo provided to China Daily]
It is an inspiring story for many netizens in China. Many years ago, Jack Ma, head of the Alibaba Group, was rejected by KFC when he applied for a job with the fast food chain.
Now the internet tycoon's payment unit is investing in the fast food chains' China business to help more customers use the mobile payment system at Yum! Brands Inc's 7,200 restaurants across the country, which also include Pizza Hut and Taco Bell.
"The investment is of a strategic nature," said Jason Yu, general manager of Kantar Worldpanel China. After all, the two Chinese investors' combined shares are less than 5 percent of the total holdings of Yum China.
Yu said the investment will not bring material change to the day-to-day running of the operation of the fast food chains.
Last Friday, Yum! Brands Inc agreed to sell a combined $460 million stake in its Chinese operations to Primavera Capital Group and Ant Financial Services Group, a deal that sets the stage for a spinoff of the business into a separate company next month.
Primavera, a Chinese private equity firm, will invest $410 million in the spinoff. Ant Financial, an affiliate of e-commerce giant Alibaba Group Holding Ltd, will put $50 million into the business. Primavera founder Fred Hu, the former Goldman Sachs Group Inc chairman in charge of its business in China, will become chairman of the new company, which will be called Yum China.
Yum, the sprawling fast-food empire that includes KFC, Pizza Hut and Taco Bell and operates more than 7,200 restaurants in China, said the spinoff remains on track to be completed on Oct 31. The new company will then start trading on the New York Stock Exchange under the ticker YUMC on Nov 1.
Ant Financial, the Alibaba affiliate, operates the widely used Alipay mobile-payments platform. The firm will assist with an electronic payment system that works across the restaurant brands.
"We expect Ant Financial can provide further unique insights to help us better connect with consumers through mobile technology," said Micky Pant, Yum China's chief executive officer.
Despite the food safety scandals that severely hurt its business in the country last year, Yum's business has improved in recent quarters, and Yum's performance in Asia has shown signs of picking up.
The company's second-quarter profit beat estimates, helped by the KFC chain's better-than-expected performance in China. Still, revenue dropped 3 percent to $1.6 billion in its China business, which accounted for 53 percent of the group's total. Yum shares have advanced 24 percent this year.
Still, the winner in the deal is undoubtedly Alibaba. "The deal will certainly accelerate the adoption of the Alipay mobile payment as well as digital marketing integration with Alibaba ecosystem," Yu said.