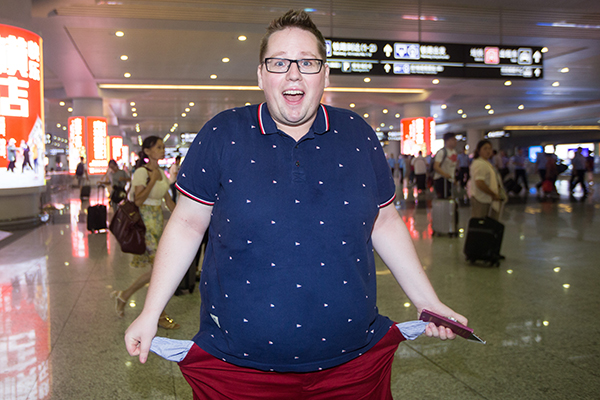 Thomas Derksen, a German known for his funny online videos that make fun of Shanghai life, spent a day relying on only smartphone payment apps in Hangzhou. [Photo/China Daily]
Foreigners in China laud the country's world-leading mobile payment industry and say apps have made life a lot more convenient than in their home nations
Thomas Derksen, a social media star known for posting fun videos that satirizes everyday life in Shanghai, was recently given a challenge of spending a day in Hangzhou, the capital of Zhejiang province, without any cash or credit cards on hand.
The German expatriate, who lives in Shanghai, admitted that it was something he could not imagine doing back home in Europe, but he breezed through the challenge using only his smartphone, which was installed with Alipay, the third-party payment app.
Derksen, who has been affectionately nicknamed A Fu by netizens, started his cashless day at Hangzhou East Railway Station, where he managed to rent an umbrella and a portable battery for his phone simply by scanning a QR code and completing the transaction with Alipay.
He then went on to perform many other transactions throughout the day, including taking a bus, getting a bouquet of flowers for his wife and even buying a street snack, all of which were captured on video.
At the end of the challenge, Derksenwas visibly astounded by the abundance of mobile payment options in Hangzhou, the host city of the G20 Leaders Summit on Sept 4 and 5.
"It is unbelievable that I can even buy street snacks with Alipay in Hangzhou," he exclaimed.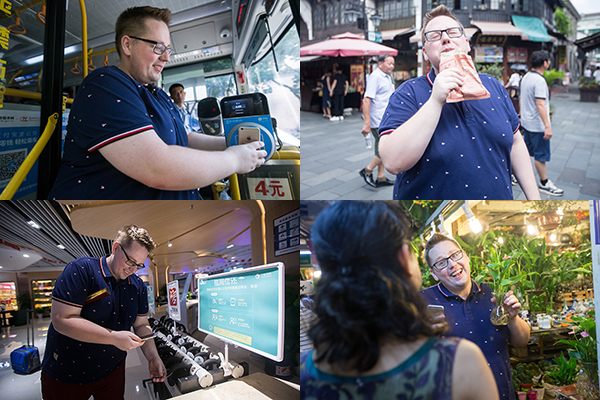 Clockwise from top left: He buys a bus ticket using Alipay, enjoys a snack paid for with an app, rents an umbrella at Hangzhou East Railway Station, and buys a bouquet of flowers at Wushan Flower and Fish Market. [Photo/China Daily]
"To be honest, I dare not go out without cash even in Frankfurt, Germany. Among the several hundred cities in more than 30 countries I've visited, Hangzhou is truly the capital of mobile payment."
Chinese netizens may be amused by the German's reaction. After all, the cashless trend is fast catching on across China, especially in Hangzhou, where more than 95 percent of taxis, supermarkets and convenience stores accept Alipay.
In addition, more than half of the 40,000 or so restaurants in the eastern Chinese city, as well as various leisure and entertainment venues such as hair salons and karaoke lounges, accept this mode of payment.
According to the Digital Inclusive Financial Index, which is compiled by Peking University, Hangzhou is the top Chinese city in terms of mobile payment, credit fields, financial management, investment and insurance. The index surveyed 337 cities between 2011 and 2015.
When asked if he would rather carry 10,000 yuan ($1,500) in cash or rely on a smartphone, Derksen was quick to pick the latter, although he conceded that most of his compatriots may not necessarily agree with him.
Derksen, who was born in Marienheide, a municipality near Cologne, said that Germans are by comparison relatively skeptical of using mobile payments methods. Instead, they prefer to use cash and debit cards.
"I used to work at German bank Sparkasse and I found it extremely difficult to persuade people to use credit payments in their daily lives. German people are unwilling to take risks, and they don't want to make any changes in their lives."
Derksen said his experience at the bank taught him that there is no such thing as absolute security when it comes to money matters.
"Traditionally, people think banks are the safest place to save their money, and that it is risky to try a new payment method. But when I started working at the bank in 2008, I discovered that banks were the first to suffer from the subprime mortgage crisis," he said.
Derksen praised the designers of Alipay for being "smart and considerate", saying that although the intuitive app allows users to easily make payments, it also has robust security features including fingerprint or facial recognition.
"I really want to show this Chinese mobile payment technology to my parents and my friends in Germany," he said.
"German Chancellor Angela Merkel is coming to Hangzhou for the G20 Summit, and I really hope she can see how advanced China is in mobile payment technology. I think many countries can learn a lot from China in this sector."
A report by Alipay showed that the most popular function utilized by foreign users like Derksen is money transfers, with up to 79 percent of these users having performed such a transaction. Other popular functions include recharging cellphone credit (33 percent), and payment of taxi fares (18.5 percent) and utility bills (10 percent).
Meanwhile, 32.3 percent of Alipay users have purchased account safety insurance, indicating that the majority of foreign users seem confident of the security the app affords.
According to Ant Financial, the operator of Alipay, usage among expatriates on the Chinese mainland this year has increased considerably on 2015. It noted that nearly 30 percent of expats are Alipay users, and that almost 40 percent of foreign users have used Koubei, an online-to-offline platform also operated by Ant Financial.
Ant Financial is a subsidiary of internet giant Alibaba, which is headquartered in Hangzhou. Apart from Alipay, the company also runs fund management platform Yu'ebao, third-party financial services platform Zhaocaibao, private online bank Mybank, microloan provider Ant Micro Loan and Sesame Credit, the nation's first private credit-rating system.
Chris Powers, an expatriate from the United States who lives in Shanghai, said he often leaves home without any cash in his pockets these days, thanks to the convenience that mobile payment applications like Alipay afford. He added that many of his American friends in the city of Hangzhou also frequently use the app.
"I've been able to get through stretches of three to four days in Shanghai using no cash at all. I can pay for cabs, food orders, supermarket purchases and drinks at bars as long as I have my mobile phone," said Powers, who started to use Alipay about a year ago.
Selwyn Low, a Singaporean who works at a multinational advertising agency in Shanghai, said he uses the mobile payment app almost every day. "It's so convenient to use a mobile phone to pay my utility bills. I no longer need to open envelopes to check my bill," he said.
Low, who started using Alipay about two years ago when he lived in Beijing, added that his life in China has become much easier with the proliferation of mobile payment applications. "Singapore is pretty modern, but the cashless scene back home is still in its infancy compared with China. I'm very impressed that I'm able to do so much with my mobile phone in China. It's really nothing like I've ever experienced."