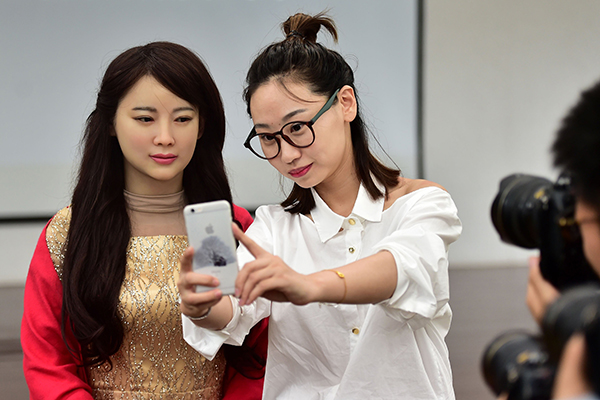 Jiajia (left), a robot developed by the University of Science and Technology of China in Hefei, Anhui province, meets reporters at the campus of the school. [Photo/Xinhua]
Voice recognition firm aims to accelerate the use of its artificial intelligence technologies
Chinese voice recognition firm iFLYTEK Co Ltd said it will step up overseas investments as the firm aims to accelerate the application of its artificial intelligence technologies in cars, e-learning and mobile internet industries.
Liu Qingfeng, chairman of iFLYTEK, said the company has set up a fund to invest into global startups and later-stage firms, as artificial intelligence, or AI, is widely seen as a core driving force over the next five to 10 years.
"The first-phase of the fund will be 1 billion yuan ($150 million) and we have already acquired a Japanese firm which uses digital technology to promote English learning," Liu said in an exclusive interview with China Daily on the sidelines of B20 summit which was held in Hangzhou, capital of Zhejiang province, on Saturday.
Founded in 1999, iFLYTEK is the Chinese counterpart of the US firm Nuance Communications Inc and Siri, the virtual voice assistant developed by Apple Inc.
iFLYTEK's investment plan came after AI-powered AlphaGo defeated a world champion player of the ancient strategy game Go earlier this year. The victory marked a breakthrough in the infant sector, which both Chinese and foreign internet giants such as Baidu Inc and Google Inc are pouring money in for future growth.
"One of our focuses will be the automotive industry where hands are bound to steering wheels and voice control is needed the most," Liu said, adding that the firm's technology has been applied to more than 30 car models.
In 2016, iFLYTEK prevailed in the Winograd Schema Challenge, a well-recognized global competition to test machine intelligence. Currently, about 160,000 developers are using the firm's voice cloud platform to work on different applications, more than doubling last year's figure.
To expand its overseas presence, the firm, based in Hefei, capital of east China's Anhui province, is also working on a voice cloud platform to achieve automatic translation of Chinese to English, the Uygur language and other languages which are widely used in Central Asia.
Tan Tieniu, a member of the Chinese Academy of Sciences, said the global AI market hit $127 billion in 2015 and it is expected to exceed $165 billion this year.
"But it is important to remain calm as investments flood to the AI sector and more efforts are needed to develop core technology," Tan said.
Zhao Ziming, an analyst at Analysys International in Beijing, said: "As we enter into the internet of things era where refrigerators, desks, curtains and other things are all connected with the internet, voice-based control will have big potential."