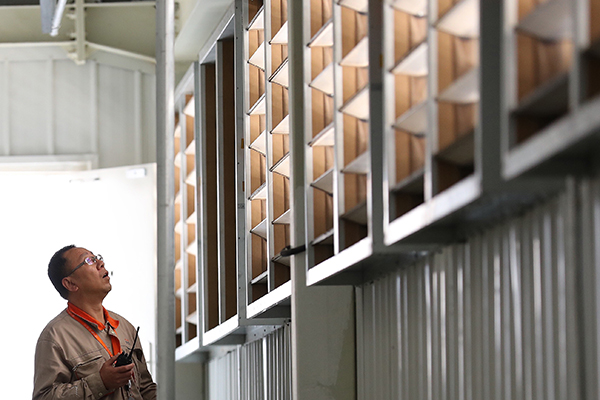 An engineer examines equipments at Alibaba's data center in Zhangbei county, Hebei province, Sept 11, 2016. [Photo/China Daily] 
E-commerce giant Alibaba Group Holding Ltd launched on Monday its very first self-designed, self-built data centers in Hebei province, beefing up its cloud computing capability to better serve online shoppers and entrepreneurs in northern China.
The two newly launched data centers in Zhangbei county in Zhangjiakou are expected to become Alibaba's key computing infrastructure in northern China, providing services to the giant's core businesses in cloud computing, big data and e-commerce.
Jeff Zhang, chief technology officer of Alibaba Group, said that the e-commerce giant had previously teamed up with telecom operators in building data centers.
"The two centers in Zhangbei are the first centers we have exclusively designed and built to support our business," he said, adding that he estimates the centers will shoulder about half of the computing tasks of the company in the future.
According to Zhang, the new centers will soon provide services during Alibaba's upcoming Nov 11 shopping festival, the biggest annual online shopping event in China. The centers are also expected to provide clouding computing and big data services to 2 million small and medium-sized companies.
"Alibaba has become one of the world's leading big data companies. We are fully committed to building our platform, at the heart of which are efficient data centers that are highly available and robust, of large enough scale to match our growth and make use of a reproducible IT infrastructure," said Zhang, adding that the company may build another data center in the future.
The launch of the new data center is in line with Alibaba's "going North" strategy.
The move is aimed to help Alibaba gain an increased market share in northern regions in the intense competition with its biggest online shopping rival, Beijing-based JD.com Inc.
Lu, an e-commerce expert, said "computing infrastructure is important for Alibaba to enable users in north China to enjoy more and better services".