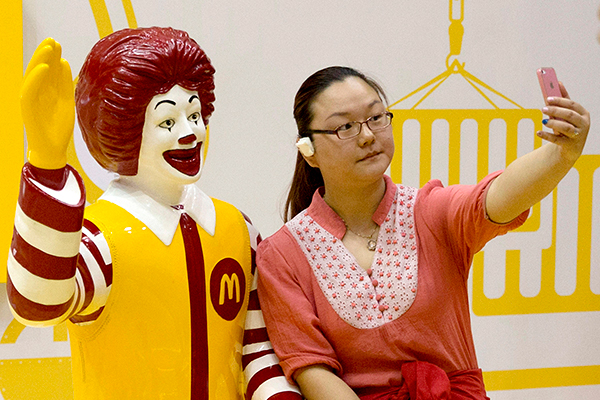 A woman takes photo at an exhibition showcasing the toys given out by McDonald's in the past 25 years in Beijing, March 31, 2016. [Photo/Agencies]
Both US companies realize local partners and franchising are the way forward
KFC's partnership with an Alibaba affiliate puts the pressure on the Golden Arches in China more than ever.
By allying with a backer of the country's top food delivery website, KFC owner Yum! Brands Inc has taken a step toward solving the dilemma of slowing growth in its biggest market outside the United States. It's a deal that McDonald's Corp, the Big Mac maker that is also in the throes of selling its China business, will do well to match.
Yum and McDonald's are among a clutch of Western brands that have realized they need a Chinese partner to stay on top of shifting consumer tastes in the nation. The price of not getting that strategy right has meant retreat in recent years for brands from Tesco and B&Q to Best Buy.
For McDonald's and Yum, both of whom have been hurt by food-safety scandals in China, the challenge is not only to improve their reputation but also to stay on top of a move toward healthier foods, capitalize on consumption growth in smaller cities where they have little presence, and most importantly, join the Chinese rush to perform ever more daily tasks online.
Yum's fast-food operations in China, which also include Pizza Hut, span 7,200 outlets. Yet its share of the market has dropped from close to 40 percent in 2012 to 23.9 percent last year, while McDonald's has slid from a high of 16.5 percent in 2013 to 13.8 percent, according to data from Euromonitor International. McDonald's has about 2,200 outlets in the country.
Selling a piece of the China business to private-equity firm Primavera Capital and Alibaba's Ant Financial will move Yum up the path of online relevance faster than its US competitor. Ant is the owner of China's top payments platform and holds a stake in food-delivery website Eleme, key pieces of the jigsaw needed to help Yum appeal to customers who want to order and pay for food through their mobile phones.
In Primavera, Yum also gets one of the country's top dealmakers: Founder Fred Hu is the former Goldman Sachs chairman in charge of the firm China and will serve as chairman of Yum China, which will be spun off from the parent into a separate company next month.
Admittedly, Primavera and Ant will buy only a small minority stake in Yum China-less than 6 percent initially. Still, that emphasizes the difficulty for McDonald's, which is seeking a buyer for the whole business.
Unlike Yum, McDonald's has no plans for a listing of its China operations. In common with its rival, though, the company has realized that local partners and franchising are the way forward. Most McDonald's restaurants in the Chinese mainland, Hong Kong and South Korea are directly owned by the company. The chain aims eventually to have 95 percent of restaurants in Asia under local ownership, it said in March.
The conundrum for McDonald's is that handing over the reins to local partners may risk its brand, already dented by a 2014 food-safety scare. The company has imposed stringent deal conditions such as a three-year ban on senior management changes, it was reported in May-though this has had the effect of deterring bidders.
McDonald's has attracted only a few Chinese suitors and none has the online heft that Ant brings. The interested parties (their private equity partners aside) aren't known for either online consumer expertise or retail exposure. The roster so far includes bad-loan manager China Cinda Asset Management and dairy producer Beijing Sanyuan Foods. Sanyuan's largest shareholder is State-owned Beijing Capital Agribusiness Group, which runs some McDonald's restaurants in Beijing. Chinese State conglomerate Citic Group, which has only a modest retail presence, is also in the running.
There's little danger McDonald's would ever have to retreat from China. The chain has been chalking up gains in same-store sales this year, after several quarters of declines. It remains China's second-most-popular fast-food brand, according to Euromonitor.
Bloomberg