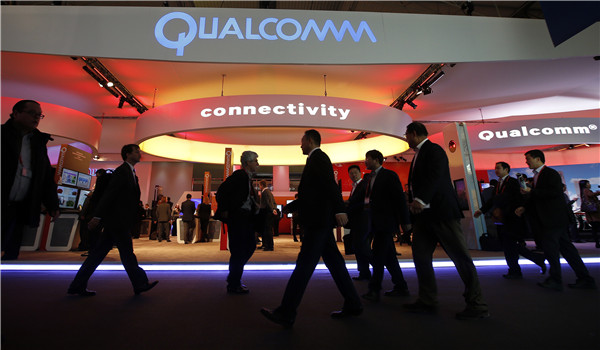 Visitors walk past the Qualcomm Inc stand at the Mobile World Congress held in Barcelona. [Photo/Agencies]
US chip giant Qualcomm Inc has set up an innovation center in Shenzhen, southern Guangdong province, in a move to deepen its business in the Chinese market by taking advantage of the country's innovation drive.
It is the first innovation center the company has set up in the country.
The innovation center will provide technological support to Chinese enterprises with a focus on the internet of things, which the company believes will be a promising sector that will see explosive growth.
The world's leading electromagnetic testing equipment, for example, will be included in the center's experimental lab, providing precise testing services for innovative companies to help them reduce research and development costs and increase international competitiveness.
"Shenzhen has strong innovation capability," Frank Meng, chairman of Qualcomm China, said.
"With the accumulation of technology, capital and talents in China over the years, many 'China Firsts' will emerge in robots, virtual reality and other fields," he said. "We hope the establishment of the innovation center will help us deepen cooperation with Chinese enterprises in innovation to achieve mutual development."
Having been in the Chinese market for more than 20 years, the chip-maker has research and development centers in Beijing and Shanghai.
The newly-established Shenzhen innovation center is different from the R&D centers, Meng said, pointing out that R&D centers mainly focus on developing the company's own technologies and promoting them to the market.
"At the innovation center, however, the aim is to make joint efforts with Chinese enterprises to promote innovation. Cooperation will be carried out at an earlier stage so that we can develop technologies and products together with Chinese enterprises," Meng said.
The center will also provide capital investment to help small and medium-sized enterprises in Shenzhen and Guangdong province innovate, Meng added.
Qualcomm announced in July 2014 that it was setting up a $150 million fund to invest in Chinese startups, mainly in the internet, e-commerce, semiconductor, education and health sectors.
"There are a number of innovative enterprises in Shenzhen which own creative ideas, but are in need of help in technology," said Jason Low, a Shanghai-based analyst with Canalys. "Establishment of the innovation center by the information technology giant provides a favorable condition for them to turn their creative ideas into reality."