Apple China sales fall 30%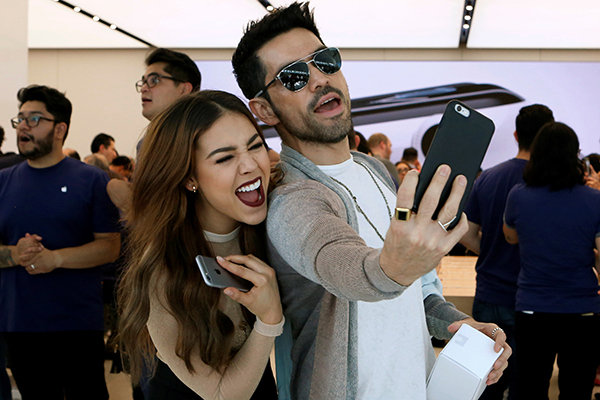 Customers take a selfie as they enter the first Apple store in Mexico City on Sept 24, 2016. [Photo/Agencies]
Firm faces growing challenge from local rivals offering new tech and designs
Apple Inc's third consecutive decline in quarterly revenue and profit highlights the challenges the US tech giant faces in China, as local smartphone vendors work hard to experiment with new technologies and designs, analysts said on Wednesday.
Apple said on Tuesday it saw a nearly 30 percent decline in its China revenue in the quarter ending September, the highest fall among all regions, due to tepid demand for its iconic iPhones.
The firm recorded $8.79 billion in revenue in China. Last year, the figure was $12.51 billion.
Apple CEO Tim Cook said consumers were excited about the firm's latest model iPhone 7 series, which would have a good performance in the next quarter.
"We are very bullish on China," Cook said in a follow-up earnings call.
The result also marked Apple's first annual sales decline since 2001. Its annual revenue fell to $216 billion in the 2016 fiscal year ending September, from a record $234 billion in 2015.
Roger Sheng, research director at Gartner Inc, said Apple's decline in China is highly likely to continue, because so far the iPhone 7 has not generated a very good sales momentum.
"Many consumers already have quality handsets from local players and they don't have immediate need to upgrade their devices," Sheng said.
Apple releases a flagship model once a year while local rivals such as Huawei Technologies Co Ltd launch a new product every one to two months, which puts them in a better position to experiment with new technologies, he added.
Xiaomi Corp, for instance, unveiled its Mi Mix premium model on Tuesday, whose display covers almost the entire front, developed in partnership with famous designer Philippe Starck.
Huawei turned to camera maker Leica to improve the photo-taking capabilities of its handset P9, which has proved very popular among consumers.
"They have outperformed Apple in some hardware components," said James Yan, research director at Counterpoint Technology.
Apple's slide came shortly after Samsung scrapped its Galaxy Note 7 handset due to battery explosions, offering good opportunities for rivals to expand their share in the high-end market.
Nicole Peng, research director at Shanghai-based consultancy Canalys, said: "Apple will see a promising fourth quarter with the absence of its direct competitor Samsung in the high-end segment, as long as it ensures the supply of iPhone 7 plus."