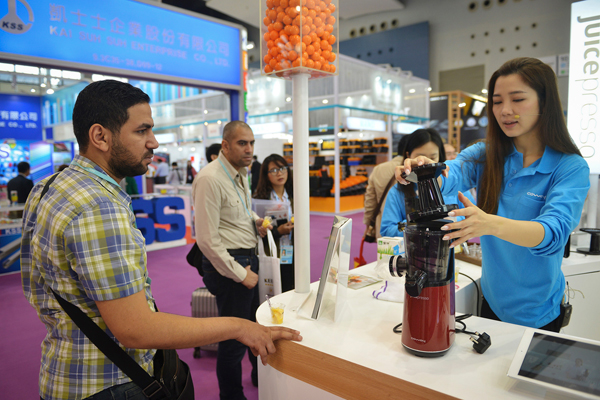 Foreign visitors examine a juice extractor on display at a Canton Fair held in Guangzhou, capital of Guangdong province. Lin Guiyan / For China Daily
China's weak trade will stabilize and improve significantly in the months ahead, as declines narrow steadily and the trade structure has been optimized, according to a trade sector insider.
"A series of new positive factors have emerged, continuing to drive the growth of foreign trade," said Xu Bing, spokesman of the China Import and Export Fair, also widely known as the Canton Fair.
The 120th Canton Fair, which is held twice a year, will open in Guangzhou, the capital of Guangdong province, on Saturday, attracting 24,553 companies from home and abroad to display their products.
The biannual fair, the country's largest trade event, is considered an important barometer of China's foreign trade.
The number of international buyers this time will be around 200,000, a slight increase over the same period of last year, according to Xu.
Xu said about 1,700 companies, which have developed competitiveness in innovation and branding, would be showcased in the fair.
"With a steady increase of foreign buyers and exhibitors, we expect a slight increase in trade transaction volumes during the fair," Xu said.
China's foreign trade volumes shrank by 1.9 percent year-on-year to 17.53 trillion yuan ($2.6 trillion) in the first nine months of the year, whiles exports declined to 10.06 trillion yuan, down 1.6 percent from that of last year. The overall trade performance, however, improved on a quarterly basis, as it increased by 1.1 percent year-on-year in the third quarter.
Zeng Dexiang, president of Guangzhou Bosma Technology Co, said the company's exports improved slightly in the last quarter as more cutting-edge products became popular items in developed markets.