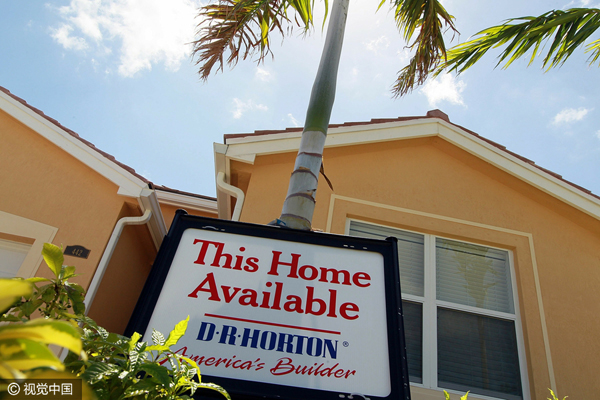 A sign indicating a new home is available for sale is seen on June 23, 2010 in Miami, Florida. [Photo/VCG] 
Chinese buyers have doubled their residential property purchases in South Florida over the last four years, growing from 1 percent of all international sales in 2011 to 2 percent in 2015, according to the 2015 Miami Profile of International Home Buyers released by the Miami Association of Realtors.
"That may not sound like much, but because Miami has so many international sales (22 percent of unit sales and 36 percent of dollar volume), 1 percent of our international sales are more than some market's total international sales," said Teresa King Kinney, CEO of the association.
"I still believe it's just a fraction of what it will be," she said.
Latin American, European and Russian buyers were previously Miami real estate agents' international focus. Now they are setting their sights on China, the top buyer of US real estate.
The Miami Association of Realtors recently partnered with Juwai, one of China's largest international property search portals, to promote Miami's residential and commercial listings.
Kinney has made four trips to China. In June, she presented Miami real estate projects to buyers in Chengdu, Xi'an, Changzhou and Shanghai.
"They're very, very positive about Miami, and every time we refer to 'Miami', it's like 'Oh, I want to go to Miami' and smiling. I guess it's the sunshine effect of Miami," Kinney said.
Some local real estate companies have established partnerships with the largest Chinese brokerage firm, Homelink.
"They have committed time and resources to learning the Miami market. Recently, they brought 20 top producers to train with us," said Philip Spiegelman, principal of International Sales Group, which began recruiting Mandarin-speaking agents two years ago. They now have 25 of them.
"Just look at this," said Gene Shi, president of Homelink's international operations, during a tour with another local brokerage firm Cervera, as he gestured toward Biscayne Bay, its waters shimmering outside the window of the Missioni Baia sales center in Edgewater.
"This is something you could never dream of, even for a millionaire in New York City," Shi said. "But this is a typical view for a citizen of Miami."
While Chinese buyers might enjoy having 320 sunny days a year, they come with different needs, said Lin Wenjun, the principal broker of American Da Tang Group, a New York-based real estate firm helping Chinese investors buy in the US.