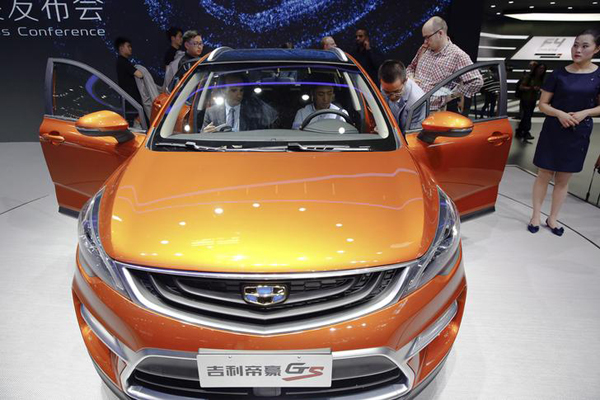 A Geely Auto's SUV model Emgrand GS is presented at the Auto China 2016 show in Beijing.[Photo/ REUTERS]
Chinese billionaire Li Shufu will test whether there's room for another global car brand by introducing a new marque next week, built on technology jointly developed by his two car companies, Geely Automobile Holdings Ltd and Volvo Cars.
The new brand, called Lynk & Co, will be unveiled on Oct 20 in Berlin and share its underpinnings with Volvo Cars models. Sales are slated to start in the second half of next year, with the first model likely being a sport utility vehicle, according to Geely Auto Chief Executive Officer Gui Shengyue, declining to provide more details ahead of the official announcement.
"The new brand carries great importance for Geely's development," Gui said in a telephone interview on Thursday. "We are currently competing against other local car brands, as well as high-end brands with Volvo Cars." Lynk & Co will help Geely fight against other mass-market foreign brands, he said.
The new mid-tier brand comes about two years after Li killed three sub-brands and unified its models under the Geely nameplate. The new marque, to be produced in China but distributed globally, will allow Geely to compete in the lower end of the market while freeing Volvo Cars to focus on the premium end.
Even so, any new brand would have to fight for consumer acceptance in a market crowded with more than 100 passenger-vehicle nameplates. Geely's Lynk & Co will join newcomers such as Borgward Group AG, a defunct German brand revived by Chinese State-owned BAIC Group, and a host of electric vehicle startups in trying to carve out a niche.
Geely has some advantages because the new brand would have access to a platform and technology from Volvo, and it may have better insight as a Chinese company in how to tap growth in faster-growing smaller cities, said Bill Russo, managing director of Gao Feng Advisory Co.
"The market is not asking for yet another brand, unless it brings a clear and unique proposition," Russo said. "I assume Geely has learned a lot from its previous failed multi-brand strategy which they're unlikely to repeat."
Li purchased Volvo Cars from Ford Motor Co in 2010 for $1.5 billion and has rejuvenated the Swedish automaker with an $11 billion modernization and investment program. The company unveiled the XC90 in 2014, the first model wholly developed under Geely's ownership, followed by the revamped S90 luxury sedan.
Bloomberg