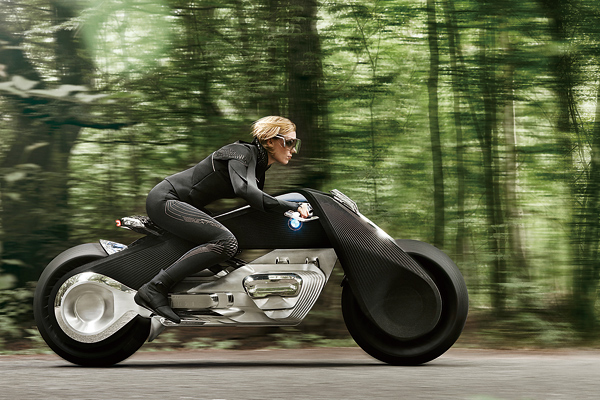 BMW Motorrad Vision Next 100. [Photo provided to China Daily]
BMW Group maintained its No 2 position in the world's largest market with a year-on-year surge in sales approaching 10.6 percent in the first three quarters of this year. It was closely followed by Mercedes-Benz, which achieved a 30 percent rise in sales.
The number of BMW and Mini vehicles delivered on the Chinese mainland totaled 49,204 units last month, 19.6 percent more than in the same period last year. The accumulated sales volume in the first three quarters also surged by 10.6 percent, reaching 379,176 units.
Sales on the Chinese mainland, BMW Group's largest single market, fueled the group's considerable sales growth.
BMW Group's worldwide volume increased in September by a record 10.5 percent after it delivered a total of 237,973 vehicles.
The increase helped the company register its best-ever sales figures for a year's first three quarters, with year-to-date sales of 1.75 million units, up 6.2 percent compared with the same period last year.
"Our policy of balanced global sales continues to deliver sustainable success and profitability remains our primary focus, " said Ian Robertson, a member of the BMW Group Board of Management with responsibility for Sales and Marketing.
"Global demand for our premium models continues to grow in all vehicle classes," Robertson said.
The BMW Group unveiled on Oct 11 its Motorrad Vision Next 100 motorcycle, to mark the group's centenary under the motto, "The Next 100 Years".
The Motorrad Vision Next 100 aims to deliver an unparalleled riding experience, and its assistance systems anticipate danger and advise riders when action is needed, and intervene to keep them safe in the event of danger. The systems leave riders free to enjoy a pure and uninterrupted riding experience.
One of the motorcycle's key features is a self-balancing mechanism, which keeps it balanced, both while it is stationary and in motion.
BMW Motorrad's sales continued to grow through September, with a total of 12,215 units sold in the month. Sales in the first nine months of the year increased by 3.2 percent, with a total of 116,044 motorcycles and maxiscooters delivered.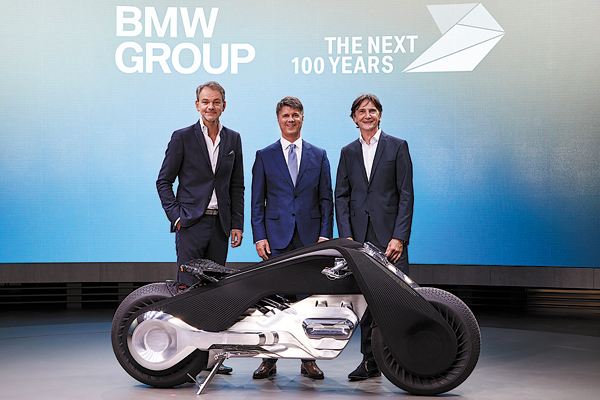 Adrian van Hooydonk (left), senior vice-president of BMW Group Design, Harald Krueger (center), chairman of the Board of Management of BMW Group, and Edgar Heinrich, head of BMW Motorrad Design, unveil the BMW Motorrad Vision Next 100 that debuted in Los Angeles on Oct 11. [Photo provided to China Daily]
Premium market expands
Volkswagen's high-end division, Audi, maintained its lead in the Chinese premium car market with an accumulated 440,233 units sold in the first three quarters.
The overall expansion rate of the premium car market in China reached roughly 20 percent this year, and its penetration rate touched a historic high in Beijing, Shanghai, Guangzhou and Shenzhen.
According to figures from LMC Automotive Consulting, roughly 26 percent of new car sales were comprised of premium models in the four major cities, thanks to the rapid growth of such locally-made entry-level crossovers as the Audi Q3, BMW X1 and Mercedes-Benz GLA.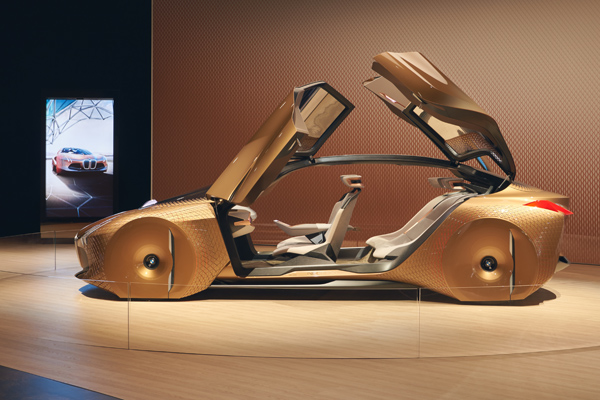 BMW Group's pioneering vision vehicle, the BMW Vision Next 100, is displayed in Los Angeles. [Photo provided to China Daily]
John Zeng, managing director of LMC, told China Daily: "The 26 percent premium car penetration rate in the four cities has overtaken the mature markets in developed countries. Penetration rates are 16 percent on average in Germany, and 14 percent in the United States."
He added: "Now the premium market is driven by individual consumption, rather than business purchases, as in the past."
However, sales of super cars and sedans plummeted, which affected both the BMW 7 Series and Mercedes-Benz S Class.
The year-to-date sales volume of Mercedes-Benz in the Chinese market was only 34,385 units fewer than that of the BMW Group. Mercedes-Benz sold 344,791 units in the Chinese market in the first three quarters of this year, a 30 percent rise on the same period last year.
Jia Xinguang, a senior analyst with the China Automobile Dealers Association, said: "Mercedes-Benz's unique strength is in its dealership model, which includes having (leading auto retailer) Lei Shing Hong Ltd as a major seller of its vehicles.
"Lei Shing Hong was courageous enough both to invest 1 billion yuan in its training center and to bet everything on Mercedes-Benz."
Contact the writer at haoyan@chinadaily.com.cn