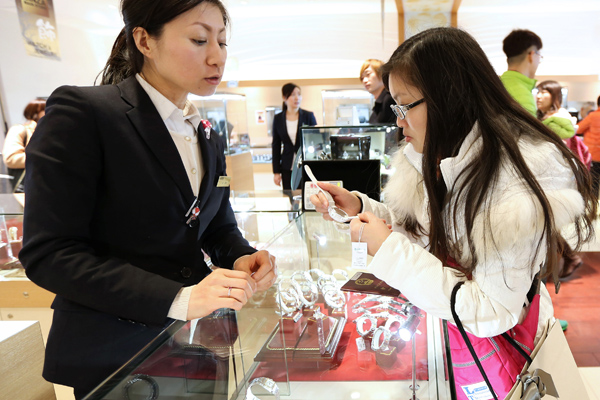 A Chinese tourist (right), inspects a wrist watch at a Laox Co store in the Ginza district of Tokyo. [Photo/Bloomberg]
The record throngs of international tourists visiting Japan have failed to jolt the country's department stores out of a slump.
Sales at outlets including Takashimaya Co and Isetan Mitsukoshi Holdings Ltd nationwide fell 6 percent in August, the biggest drop since March 2015, said the Japan Department Store Association. In the same month, arrivals of tourists from outside the country surged 13 percent, according to Japan National Tourism Organization data.
A stronger yen has made Japan more expensive for tourists, while deflation and negative interest rates have sapped consumer confidence, making it harder for department stores to increase sales. That pessimism was reflected in the Bank of Japan decision last month to do more to combat deflation by shifting its policy framework from expanding the money supply to controlling interest rates. Japan's core consumer prices fell in July at the fastest pace since March 2013.
"The BOJ may find it difficult to achieve its inflation goal in the near term," said Thomas Jastrzab, a Bloomberg Intelligence analyst. "If it manages to stoke consistent inflation this could serve as a catalyst to boost retail sales."
The biggest department stores need the boost. Revenue at Isetan Mitsukoshi, Japan's largest department store operator by market value, probably fell for a fourth straight quarter in the three months ended on Sept 30, according to analyst estimates. Sales at Takashimaya fell about 3 percent in August, after a 0.3 percent decline in the quarter ended May.
Takashimaya, Isetan and rivals have featured more goods popular with tourists and have added staff to accommodate the rise in a bet it could help drive a rebound in sales. Local news media have called the shopping style of tourists from China bakugai or "explosive buying." The moves didn't prevent sales at stores overall from sliding.
Department stores are losing customers to drugstore chains such as Sundrug Co and Matsumotokiyoshi Holdings Co, which offer discounted cosmetics and perfumes to foreign visitors who are seeking bargains as the strong Japanese currency crimps their travel budgets, said Jastrzab.
Isetan Mitsukoshi said tourists these days prefer cosmetics, children's clothes and other everyday items such as pillows over watches and consumer electronics. "Spending habits by Chinese tourists have changed slightly," said Nobuharu Sakai, a Tokyo-based spokesman.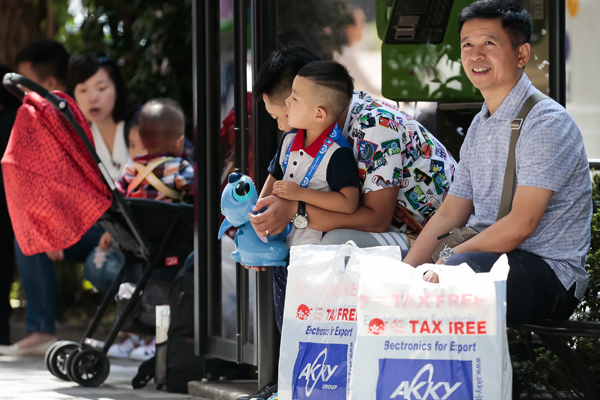 Chinese tourists shop in the Akihabara electronics area in Japan during the China National Day holiday on Oct 4, 2016. [Photo/AFLO]
Tatsuya Inagawa, an Osaka-based spokesman for Takashimaya, said the retailer noted a rise in the sale of lower-priced items such as stainless-steel flasks and baby bottles. Customers making duty-free claims per month have increased as much as 30 percent this year, while average sale prices are down by as much as 15 percent, he said.
While Japan's tourism industry and exporters may get some relief from policies announced by the BOJ as it puts downward pressure on the currency, a more critical factor would be the US dollar, said Jesper Koll, chief executive officer of the Japan unit of Wisdomtree Investment Inc.
The US dollar maintained declines following its worst day in two weeks after the US Federal Reserve damped the outlook for higher interest rates overnight. The yen is the best performer among 10 developed market currencies this year, gaining about 20 percent versus the US dollar.
"You can make the case for a weaker yen-and last month's decision does that," said Koll, referring to the BOJ move. "At the same time you do need to make the case for a stronger dollar."