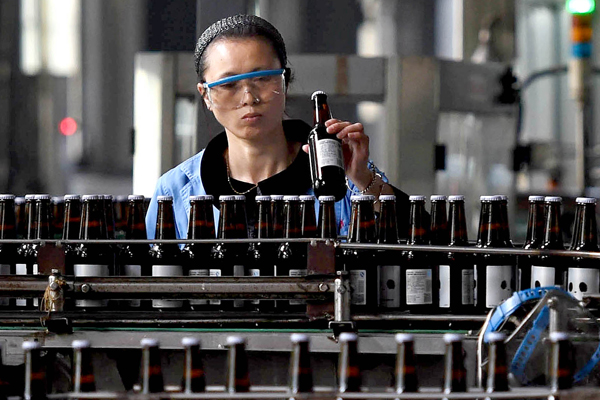 A technician inspects a craft beer production line at a brewery in Yiyang, Hunan province. [Photo by Li Ga/For China Daily]
The past couple of years have been taking some of the fizz out of traditional beer market in China. While the spending power of consumers has been increasing, the volume of beer consumed has been decreasing.
That's still a "glass half full" for Angus Or, CEO of Carlsberg China, because Chinese consumers' tastes are evolving and preferences changing, promising bright prospects for high-end beverages.
The new generation-people born after 1990-is demanding better products. So, the beer market will likely see higher sales if it begins to introduce innovative varieties. Carlsberg's Or is convinced future opportunities lie in big cities and non-alcoholic beers or ciders.
In addition, the increasing popularity of craft beer is a bright spot. Premiumization is another strategy that the Danish brewer is adopting to improve its performance. It's a strategy that has already produced good results in other markets.
That has become necessary now in China to reverse the downtrend of the last two years. According to the National Bureau of Statistics, about 47.15 million kiloliters of beer were produced in 2015, down more than 5 percent and a five-year low.
Signs are that the situation may not improve much this year. In the first half, about 22.51 million kiloliters of beer were produced, down 4.3 percent year-on-year.
Carlsberg's response is to acquire major local brands in China and "premiumize" them to meet the demand for high-quality products. It is eyeing beer brands/varieties such as Chongqing, Wusu, Dali and Xixia.
"We've also introduced a series of super-premium brands under our 'Master's Choice' portfolio, including imported high-end brews such as Grimbergen from Belgium, Poretti from Italy, and Karhu from Finland. We aim to meet a variety of consumer needs in all categories-mainstream, premium, as well as super-premium-by providing them with the best-tasting products," Or said.
This has helped Carlsberg already even though the larger beer market is cooling. In the first half of 2016, Carlsberg's operating profits at global and Asia/regional levels rose 8 percent and 6 percent year-on-year respectively, despite the corresponding volumes declining by 1 percent and 4 percent. Clearly, premiumization is driving Carlsberg's sales growth.
Beer market analysts said premiumization is a systematic strategy that requires efforts of many teams, from production, packaging and distribution to marketing, branding and consumer education.
Fang Gang, a Beijing-based beer marketing specialist, said: "Consumption of beer is highly associated with how consumers perceive the product as a label of wealth and lifestyle. Two decades ago, beer was regarded as a luxury drink, but as consumers are getting wealthier, now many think it is low-end, or just a very affordable drink in summer.
"If beer brewers want to win the new generation of consumers, they have to make the latter regard beer as a seaon-neutral, all-year drink for various occasions and scenarios."
Agreed Zhang Wutao, a Shanghai-based beer dealer with Maoquan Trade Ltd. Premium beers are now consumed more widely than ever, after a tennis session, at rock-and-roll concerts, beach resorts and wedding banquets, he said.
"Some beer brewers are offering buyers tailor-made products like souvenir bottles and cans for specific events like town halls or celebrations to mark completion of a project," said Zhang.
For their part, consumers say premiumization of beer products increases variety and makes drinking exciting.
Liu Yang, 32, sales manager with a robot components supplier, said beer, for long, has been widely acceptable, thanks to its low alcohol level, compared with wines and China's white rice liquor. But many banquets do not include it in their menu any more because beer is considered too cheap.
Zhang said: "When other people drink wine, or white rice liquor, in a crystal glass, you don't want to be seen having a beer poured from a 600-ml bottle. When beer becomes a premium drink in terms of both quality and price, you have one more option when you drink with other people. Drinking premium beer together could help build rapport, a relationship that is not too casual or not too distant."