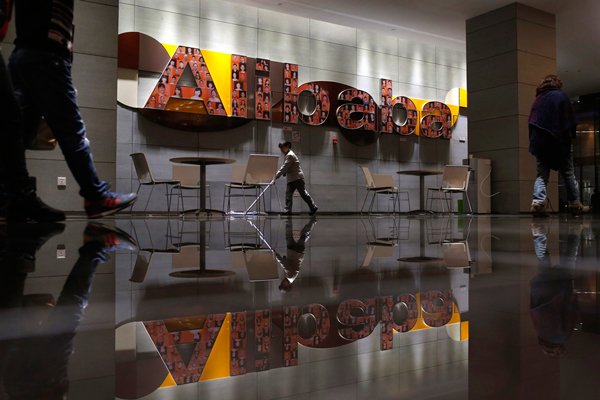 The logo of Alibaba Group is seen inside the company's headquarters in Hangzhou, Zhejiang province early November 11, 2014. [Photo/VCG]
Says pure e-commerce players face daunting obstacles, moving to help them transform.
Internet giant Alibaba Group Holding Ltd said in a letter to shareholders on Thursday that it saw pure e-commerce players to face "tremendous challenges," and in the face of that it was moving to tap more growth by helping transform the businesses in China and abroad.
Alibaba indicated that its new group would carve out more growth by helping transform the traditional retail industry, which in the mainland is valued over $4.5 trillion.
China's biggest e-commerce player said it is repositioning itself as a service provider to build digital and physical infrastructure for the future of commerce.
This included work in the fields of payment, logistics, cloud computing, big data, marketplaces and a range of other areas, executive chairman Jack Ma said in the letter emailed to shareholders.
"With e-commerce itself rapidly becoming a traditional business, pure e-commerce players will soon face tremendous challenges," Ma said.
"This is why we are adapting and it's why we strive to play a major role in the advancement of this new economic environment," Ma added.
The Hangzhou-headquartered company has already branched out to build new business powerhouses, such as cloud computing, entertainment and logistic platforms, but the letter sent the first clear message that the e-commerce giant wanted a transformation of the e-commerce business.
Alibaba witnessed its fastest growth in the quarter ended in June, since its record initial public offering in New York in 2014. But the slowing economy in China has nonetheless raised concerns about its growth momentum, as Chinese e-commerce retail accounted for 73 percent of its revenues.
Statistics from internet consultancy Analysys have shown that the overall transactions for the online retail market surged 33 percent year-on-year to 3.84 trillion yuan ($571 billion) in 2015.
But the average annual growth of the market between 2016 and 2018 is predicated to drop to less than 20 percent as the online shopping population in China closes in on reaching its ceiling.
Alibaba CEO Daniel Zhang said that the most important opportunity on the horizon is not growing online sales in isolation, but rather in helping traditional retailers upgrade into a brand new retail model.
He said in a separate letter to shareholders that the 30 trillion yuan retail industry in China as a whole is experiencing a radical disruption driven by digital transformation.