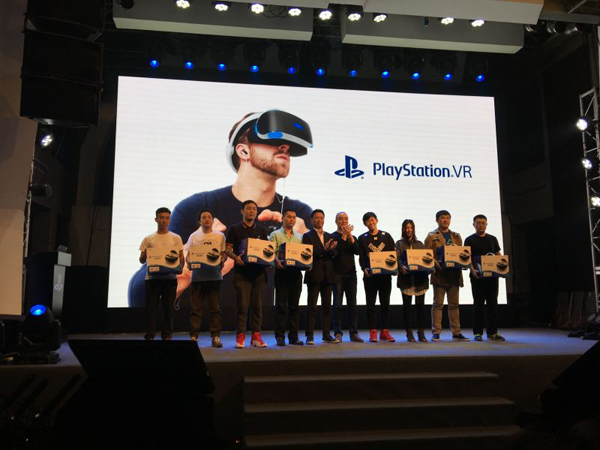 A group of Chinese early adopters, who were invited as user representatives to participate in an event held by Sony PlayStation on October 13, 2016, received the delivery of the newly-launched PS VR on site. [Liu Zheng/chinadaily.com.cn]
Sony's PlayStation VR witnessed a sales boom in China as more console gamers sought the experiences provided by virtual reality devices.
"For the first time, the shipping date in China was the same as some of the leading markets around the globe, since the country's VR market has high potential for Sony," said Hiroyuki Oda, Sony Interactive Entertainment Japan/Asia in an event held in Beijing.
According to Hiroyuki, the pre-order volume of PS VR in China ranked the top among all Asian countries the company is shipping products to.
In late July, with each VR set priced at 2,999 yuan ($450), the headset was available for pre-order at both online distribution channels as well as 22 of Sony's brick-and-mortar shops across the country.
A total of two rounds of pre-orders that stirred console gamers' enthusiasm and offline distributors were sold out within three days, according to the company.
The company invited a group of Chinese early adopters as representatives to participate in the event and they received the delivery of the newly-launched PS VR on site.
Along with the new products, Sony also introduced twelve VR games that were available for download in China and four of them were developed by domestic teams.
Shawn Layden, the device's America chief told media in an interview that "PlayStation is making money on its PS VR hardware at launch. But non-specific sales figures were disclosed."
After the official launch, some industry analysts reckoned that if the device's sales continually boom in the following orders, the global shipments volume is expected to reach 2 million units by the end of this year.
VR-ready games, rather than the hardware, are the main sources of profit for Sony in the industry, according to analysts.
Formerly codenamed Project Morpheus during development, Sony first unveiled their VR device to the world back in March 2014 at the US-based Game Developers Conference.
Apart from the VR headset, a new PS4 gaming console - PS Slim, was also introduced during the event. Scheduled to ship on Nov 11, the country's online shopping carnival, the new console will come with 500 GB and 1 TB versions, with prices set at 2,199 yuan and 2,399 yuan, respectively.
Compared with the previous generation, the weight and power consumption of the new PS has been sharply reduced.
According to consulting company International Data Corp, there are three major device categories across VR markets. These are screenless viewers that use the screens of specific smartphones to drive a VR experience; tethered Head-Mounted Displays (HMDs) that utilize an existing computing device such as a PC, a game console, or even a smartphone to drive a head-worn display; and standalone HMDs that integrate processing within the head-worn display itself.
According to the latest research released by China Electronics Standardization Institute and Xinhua News Agency, an expanding community of companies, both large and small, are working flat-out to make VR part of people's daily lives.
It said the Chinese VR market was worth 1.54 billion yuan ($236 million) in 2015, and is expected to rise to more than 5 billion yuan this year.
IDC also predicts that led by key products from Samsung, Sony, HTC, and Oculus, the category should generate hardware revenues of approximately $2.3 billion globally by this year.
Tom Mainelli, vice president for Devices & Displays at IDC, said, "In 2016, the first major VR-tethered HMDs from Oculus, HTC, and Sony, should drive combined shipments of over 2 million units."