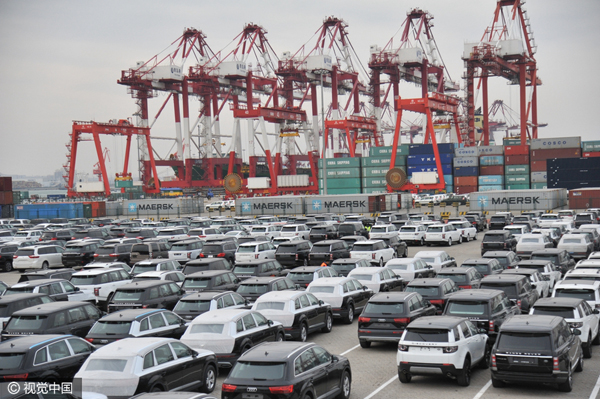 Imported cars line up at a port in Qingdao, East China's shandong province, Feb 23, 2016. [Photo/IC]
The government will expand a pilot program to diversify vehicle import channels to boost domestic consumption and will improve the service sector, the State Council decided on Friday at an executive meeting.
The traditional model for car imports relies on dealers authorized by foreign car manufacturers and registered with China's industry and commerce departments. As a result, foreign carmakers used to hold sway over prices, making imports more expensive than in other countries.
But in October 2014, China agreed to let dealers import cars directly from abroad, either through carmakers or their foreign counterparts, under a new model known as "vehicle parallel import".
These dealers don't have to be registered with industry and commerce authorities for imports.
The new model is expected to benefit domestic car buyers, since dealers can sell at lower prices because they will have new channels to import cars of a wider range of brands.
"Buyers will be happy to hear about the decision, which will allow them to buy imported cars at lower prices," said Hu Yaowen, a 38-year-old automobile dealer in Hefei, capital of Anhui province.
The program will be expanded to more provinces, municipalities and autonomous regions across the country, according to a statement released after the State Council executive meeting, presided over by Premier Li Keqiang.
In February last year, "parallel-import" cars were already available to domestic buyers, after the Shanghai Free Trade Zone initiated the pilot program, allowing the first group of 17 companies to engage in such business.
Four other cities - Tianjin, Xiamen in Fujian province and Shenzhen and Guangzhou in Guangdong province - followed suit with the program.
According to Sinomatch Automobile Co, parallel-import vehicles increased by 27 percent in the first quarter compared with the same period last year, and the average prices were 12.7 percent lower than those imported through traditional channels.
The State Council statement also said the threshold for market access will be lowered to attract private investors in the consumer goods and service sectors.
The country will also deepen reforms of professional sports leagues and open sports facilities at schools and public institutions to the public.
Additionally, the 15-day visa-free policies for inbound tourism groups aboard international cruises will be expanded to more ports, the statement said.
In his Government Work Report in March, Premier Li pledged to strengthen the service sector and promote industries such as tourism and sports to raise people's living standards and boost the domestic economy.
Currently, growth in private investment is experiencing a slowdown, while exporters are struggling amid diminishing demand.
Friday's measures indicated the government's determination to diversify supply channels and reduce prices for consumers, which is the key to boosting domestic consumption and maintaining economic growth, said Huang Qunhui, director of the Institute of Industrial Economics at the Chinese Academy of Social Sciences.