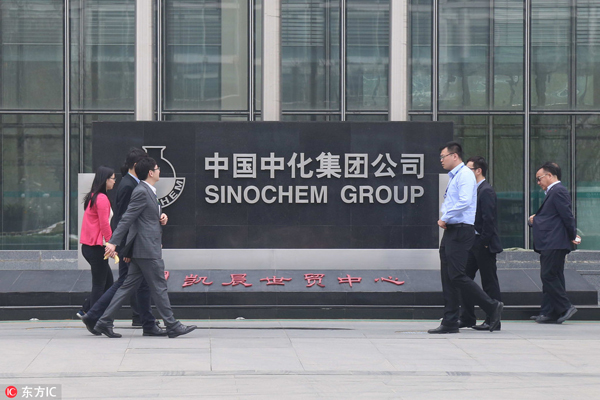 Pedestrians walk past the headquarters of Sinochem Group in Beijing, March 30 2015. [Photo/IC]
Analysts say two giants are complementary to each other, both stronger in niche markets
Sinochem Group and China National Chemical Corporation (ChemChina) are going to be merged into one company, according to a news agency report quoting sources on Friday, which sent their two shares surging.
News agency Bloomberg, which quoted sources close to the talks, said that details of the deal, including timing, were not immediately clear and the plan was still subject to change. Comments from the two companies were not available on Friday.
Sinochem, founded in 1950, is China's biggest agricultural companies by revenue with operations in fertilizers, seeds and agrochemicals. Its business also encompasses oil, real estate and non-banking financial services. It has four A share listed companies and four Hong Kong listed companies.
ChemChina is China's biggest chemical company with revenues of $45 billion in 2015. Its main businesses are chemicals, oil processing, tire and rubber products and chemical equipment.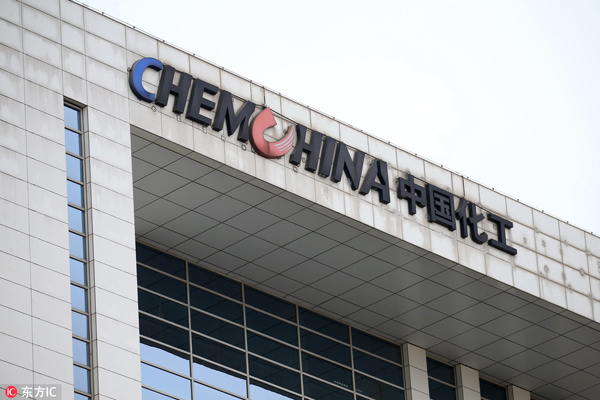 View of the headquarters of ChemChina in Beijing, February 4, 2016. [Photo/IC]
"The two companies' businesses are complementary to each other. Sinochem, however, has a much wider portfolio than ChemChina. If merged, Sinochem will be the leader in the new company," said Gao Jian, an oil analyst with Shandong-based bulk commodity information company Sublime China Information Group Co Ltd.
"The two companies account for quite a small share in petrochemical engineering. They are stronger in niche markets such as new materials, fertilizers and agriculture," he said.
According to Gao, unlike the merger of mammoth companies such as Baosteel Group and Wuhan Iron and Steel Group, this merger is a lot smaller and unlikely to have much impact one their strategic plans.
Sinochem International Corp, Sinochem's listed unit on Shanghai Stock Exchange, rose to 10.57 yuan ($1.6) per share, up 9.99 percent, on Friday.
Sinochem has been active in overseas acquisitions in recent years. In February it proposed a $43 billion purchase of Swiss pesticide and seed group Syngenta AG. If being pushed through, that merger would become the biggest overseas purchase by a Chinese company so far.
In January, a consortium led by Sinochem proposed a $1 billion purchase of KraussMaffei Group, the German plastic equipment manufacturer. If successful, the deal would be the biggest takeover by a Chinese company of a German group. Also in January, Sinochem initiated a deal to buy Halcyon Agri Corp, a Singaporean natural rubber supply chain management company, for a proposed price of around $300 million.