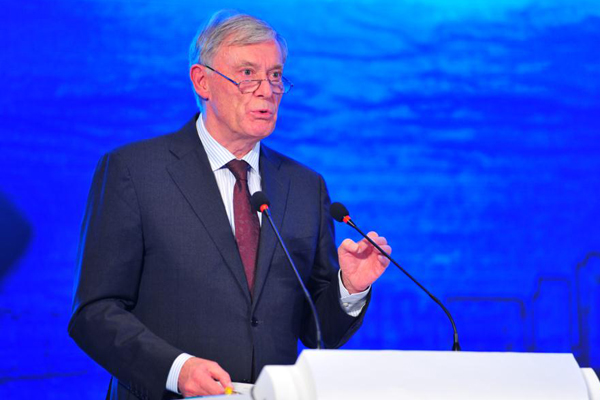 Former IMF chief and former president of the Federal Republic of Germany Horst Köhler speaks at the Zheshang-Caijing International Forum on Oct 14, 2016. [Photo/chinadaily.com.cn]
G20 members are expected to continue their efforts to implement structural reforms and "put words into actions" of proposals initiated during the G20 Summit, said former IMF president Horst Köhler.
Speaking at Zheshang-Caijing International Forum on Friday, he spoke highly of how G20 Summit this year highlighted the needs to enhance structural reforms when "a permanent stimulation of growth by means of an extremely loose monetary policy and public deficit-spending" does not constitute a healthy and sustainable economic policy.
Köhler made the comment one month after the G20 Summit, with China's taking the rotary presidency this year, was held in Hangzhou, Zhejiang province.
G20 leaders pledged to use all tools and to help promote effective macro-prudential policies, according to the communiqué released during the G20 Summit.
"It is crucial to turn pledges into actions," he said.
Old economic structures tried to defend themselves and ""gambled for resurrection" by going deeper into debt and credit, said Köhler.
It does not make sense to regard achieving economic growth as the sole target, while at the expense of losing resilience or healthy of the economy, and posing threats to environment and society, according to Köhler.
The IMF downgraded the global growth by 0.1 percentage point to 3.1 percent this year, highlighting the financial risks posed by rising debt issues.
While addressing China's efforts to implement structural reforms, Köhler said that China is taking the lead among emerging economies to implement economic transformation, and is on the track to towards a more sustainable development model.
"But more efforts are needed to be on guard to fend off risks brought by such concerns over financial risks," he said.
Corporate debt relative to GDP reached 156 percent by the end of June, according to the National Institute for Finance and Development, and a large proportion comes from profit-losing State-owned enterprises.