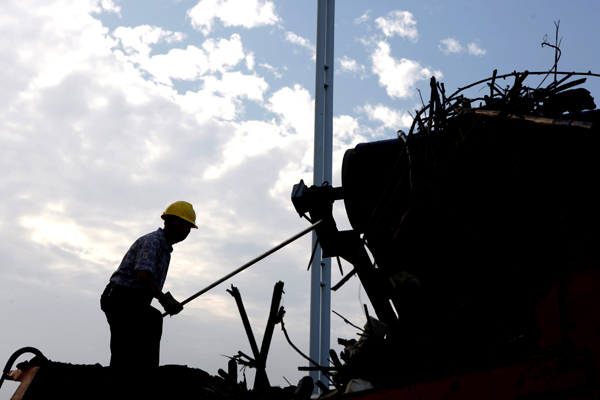 A worker handles trash collected at the Gezhouba hydropower plant on the Yangtze River near Yichang, Hubei province. [Photo by Wen Zhenxiao/For China Daily]
China Gezhouba Group Corp, builder of the world's biggest hydroelectric dam, and Beijing Enterprises Holdings Ltd, are among groups that made first-round bids for Dutch waste management company Attero, company sources said on Thursday.
State-owned China Energy Conservation & Environmental Protection Group also submitted an indicative offer by the end-September deadline, the sources said.
The sale, which has also drawn interest from Beijing Capital Group Co, could value Attero at about $800 million to $1 billion, the sources added.
Companies like Attero, which produce sustainable energy from waste incineration, are attracting suitors as nations seek to cut reliance on fossil fuels. Chinese firms have announced $5.5 billion worth of international alternative energy acquisitions in the past year, compared with $764 million in the previous 12 months.
Attero, owned by Waterland Private Equity, is the biggest waste processor in the Netherlands and serves about 40 percent of Dutch households, according to its website. The company, processes about 3.5 million metric tons of waste across 15 sites and produces sustainable electricity for 350,000 households annually.
Spokesmen for Attero and Beijing Enterprises declined to comment. Representatives for Beijing Capital, CECEP and Gezhouba didn't respond to calls seeking comment.
Gezhouba helped build the Three Gorges Dam on China's Yangtze River, according to its website. The engineering company, based in Wuhan in central China's Hubei province, also invests in thermal power stations, owns sewage treatment plants and constructs highways and airports.