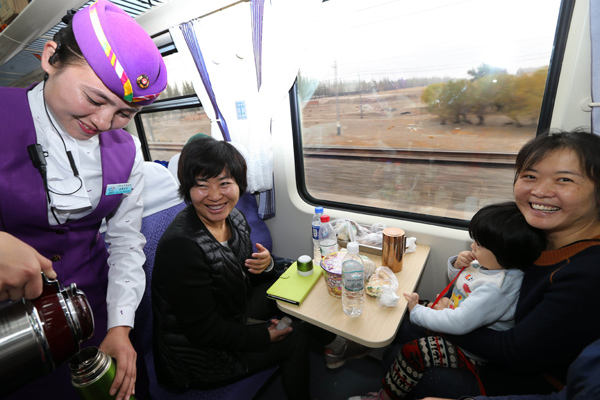 An attendant serves passengers on a train running between Urumqi and Kuerle in the Xinjiang Uygur autonomous region. [Photo by Li Xiongxin/For China Daily]
German firm Roland Berger Strategy Consultants-one of the world's biggest business consultancies-said on Thursday that it plans to offer Chinese rail operators new service solutions to improve their efficiency and diversify their profit models.
New service solutions packages will include flexible operational solutions for intercity passenger trains and subways, as well as programs like the frequent flier programs that airlines use, said Martin Streichfuss, senior partner and global head of transportation competence.
Streichfuss said the Roland Berger-designed innovative service offerings that the rail service operators could adopt would also include rail ticket packages that combine destinations with hotel stays, dinner coupons and sightseeing tickets-providing a more convenient and attractive one-stop service offering for rapidly increasing the number of rail travelers.
Streichfuss said such combinations would not only strengthen the value proposition of rail transportation to travelers, but also benefit local governments eager to reap the rewards of the expanding high-speed rail transportation network.
He said that besides passenger services, rail cargo business also has great opportunities to expand through significant improvements to their speed, the diversity of their service offerings and the intermodal transportation solutions.
Streichfuss said his consultancy believes that China's rail infrastructure is facing positive developments as the central government promotes a standardization process. He added that all the signals show that the government is making the right moves for growth.
"The fast growth of China's middle class and their growing expectations for better quality and more service options, including e-commerce, will further boost both cross-border and domestic consumption product logistics," said Streichfuss.
The German business consultancy also said it was closely following the progress of the huge new international airport in Beijing, expected to serve 45 million passengers annually starting in 2019.
The new facility and the existing Beijing Capital International Airport will face growing competition from other airports-including South Korea's Incheon International Airport, which is aggressively grabbing share in the connecting flight market.
"Roland Berger believes that some important and interesting strategic options can be studied carefully to really make this 'One City Two Hubs' case a flagship success in the international airport sector," Streichfuss said.
He said the consultancy was moving to open discussions with local governments, including Wuhan and Xi'an, to design multimodal logistics solutions so that they can expand their market reach domestically and globally, especially countries and regions along the Belt and Road Initiative.
Sun Fuquan, a researcher at the Chinese Academy of Science and Technology for Development in Beijing, said these moves could lead to tangible longer-term efforts to link regional centers to cities abroad such as Moscow and the Polish city of Lodz.
"New airports, international rail cargo services and regional hubs will support China's foreign trade, private investment, industrial productivity and the service industry under the global business settings," he said.