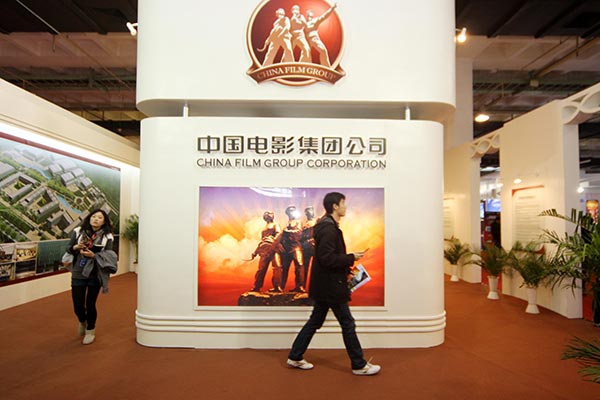 A man walks past the stand of China Film Group Corp in Beijing.[Photo/VCG]
China Film Co Ltd, China's largest movie distributor, saw a rise of 44 percent in its stock prices on its first trading day on Tuesday, after the company held the biggest initial public offering in China's entertainment industry.
The Shanghai-listed stock, with an offering price of 8.92 yuan ($1.34), opened at 10.7 yuan on Tuesday morning. It soon reached the daily limit and closed at 12.84 yuan, valuing the company at 24 billion yuan.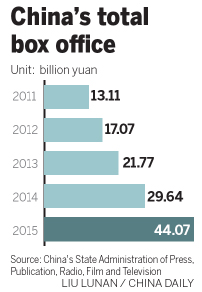 Established in 2010, China Film is the distribution unit of the State-owned China Film Group Corporation, and the latter attempted to go public in Hong Kong as early as 2004. However, the plan was suspended due to the change in China's policies at the time, which prohibited overseas capital from investing in the film industry in the mainland market.
In late July, China Film announced it would raise 4.2 billion yuan in an IPO in Shanghai to fund movie production and cinema investments.
The company accounts for 58 percent of movie distribution in the Chinese market, and its profits climbed 76 percent to 868 million yuan last year.
China's media and entertainment industry is estimated to be valued at $180 billion, and the box office receipts jumped 21 percent in the first six months of the year to 24.6 billion yuan, according to research firm EntGroup Inc.
China's film market is likely to overtake the United States as the largest movie market in the world by 2017.
Gao Jun, a well-known filmmaker in China, said the listing of China Film is meaningful for the Chinese film industry.
"Before China Film, only private film companies went public. After being listed, China Film, a key player in the industry, is required to publish various types of company information, which could be a breakthrough in the industry's standardization, and lead to more film companies going public in China," Gao said.
By the end of June, 17 film and entertainment companies had been listed in China's A-share market, and Wanda Cinema Line Corp took the leading position with a total value of 93.83 billion yuan.