Tablets are no longer considered as only entertaining devices after stylus and keyboards were introduced to help users multitask and be more productive.
Taking Apple's latest 12.9-inch iPad Pro as an example, with its 2732-by-2048 resolution Retina screen and 5.6 million pixels, the tablet features the highest-resolution display of any iOS device.
"The improvement of Apple's A9X chip and the 12-core graphics processing unit, which are embedded inside the iPad Pro, vigorously power the device and make it a good adaptation with Apple Pencil to create drawings," said James Cuda, founder of Savage Interactive (Si), an Australia-based drawing mobile application developer.
Cuda said compared with the other tablet hardware that also enable their application to run on their system, the virtually imperceptible latency of Apple Pencil provide a better user experience.
Analysis firm GfK China said that the tablet market is under a downward trend due to the popularity of "phablets" which could realize almost all the function that tablets do under current product design.
The industry has been aware of this phenomenon and is trying to change tablets from a content-consumption device to a content-creating tool, especially for a tablet that presented a display.
"Tablet's improvements still have a long way to go. It may not be a necessity for most of people, but with more product innovation, it still face a promising market and attract a certain amount of consumers," said GfK China.
Jason Liu, senior market analyst of IDC China (Beijing) noted that the country's overall shipment volume of the "all-in-one" tablets was 780,000 units in 2015, up 30.9 percent than the previous year. He also predicted that with the reduction of hardware costs and the improvements on the performance of the "all-in-one" devices in the future, the growth rate of "the competitor of traditional laptops" will reach to 74.4 percent this year.
Here's a close look at six apps that are recommended by Apple Inc and reflect the performance of iPad Pro's high-end CPU and GPU.
Procreate
Based in Hobart, Australia, the creator of Procreate--Savage Interactive (Si) started full time app development in 2011. The app is described by iTunes as the most powerful sketching, painting and illustration app ever designed for a mobile device, and it is the Apple Design Award winner and App Store Essential.
The app is powered by Silica: the fastest 64-bit painting engine on iOS.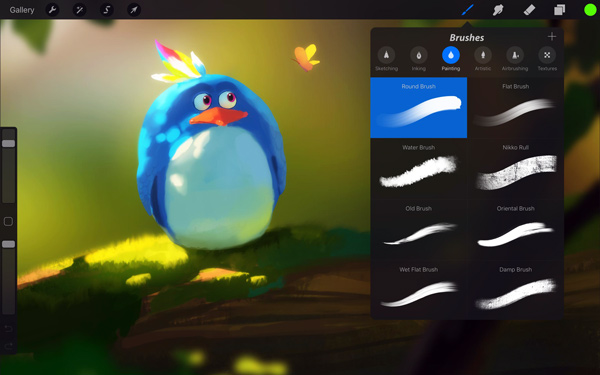 Screenshot of Procreate [Photo/procreate.si]