The iPad Pro, the largest iOS device unveiled by Apple Inc, has drawn massive attention since it started to ship two weeks ago, while both pros and cons of the device are also proliferating.
After being an early adopter for 10 days, here's my take on the behemoth-sized iPad.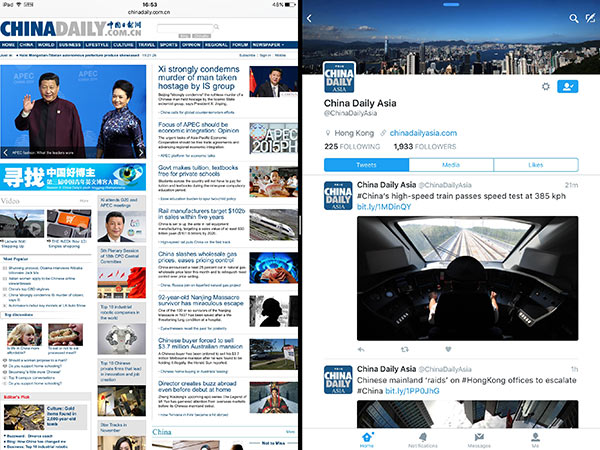 Screenshot of iPad Pro shows the multitasking function of the device. [Photo/chinadaily.com.cn]
Largest iOS entertaining gadget
Compared to the iPad Air 2, when you adjust both devices to maximum bright mode, iPad Pro's slightly yellow-colored screen is easy to discern by the naked eye.
According to Apple, with a 12.9-inch Retina display at 2732-by-2048 resolution, and 5.6 million pixels, iPad Pro features the highest-resolution display of any iOS device.
That is 78 percent more display area than that of iPad Air 2, even bettering the resolution of the 15-inch MacBook Pro.
Double the graphics performance of iPad Air 2, and equipped with speakers in each corner, making iPad Pro ideal device for movie, streaming video and games consumption, whether you are holding it vertically or horizontally.
The speakers have three times the output of iPad Air, and deliver a wide sound stage, even at the highest volumes.
While all four produce bass frequencies, the topmost speakers are dedicated to mid and high frequencies. They also automatically recognize whether the device is in portrait or landscape mode and adjust the sound to match.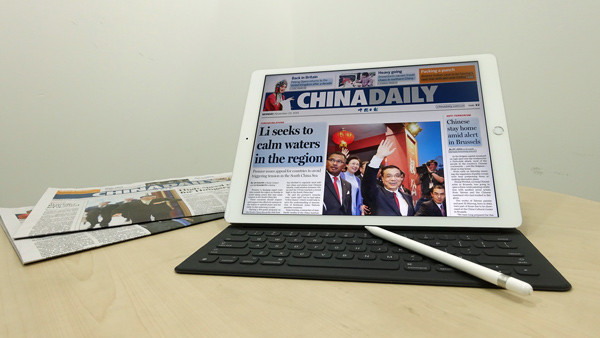 Photo taken on Nov 25, 2015 shows the iPad Pro, Smart Keyboard and Apple Pencil are displayed  on a table. [Liu Zheng/chinadaily.com.cn]
A9X chip
Behind the outstanding screen lies a brand-new chip manufactured by the Cupertino company - the A9X chip, Apple's third-generation chip with 64-bit desktop-class architecture, delivers twice the CPU and twice the graphics performance of the A8X in iPad Air 2, which "rivals most portable PCs" according to Apple.
So even the most demanding apps, including editing multiple streams of 4K video, or playing the latest Metal optimized games at full Retina resolution and 60 frames per second, iPad runs with fluidity and speed.
Beneficiary of iOS 9
iOS 9 includes a handful of optimizations for iPad Pro. These include things such as Split View and Slide Over multitasking, Picture in Picture support for video and FaceTime calls, and an enhanced virtual keyboard.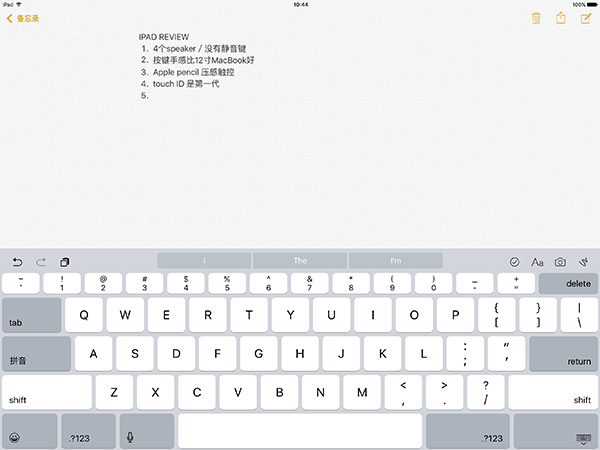 Screenshot of Notes app shows that it presents too much white space on each side of the text. [Photo/chinadaily.com.cn]
These features highlight the potential the iPad Pro has for professional use, while improvements still need to be made with regard to some of the applications' interfaces in the native or third-party apps.
Take the Notes app for instance. Functionally is great on the iPad Pro thanks to the ability to handwrite notes, embed pictures and more, but visually, it's not.