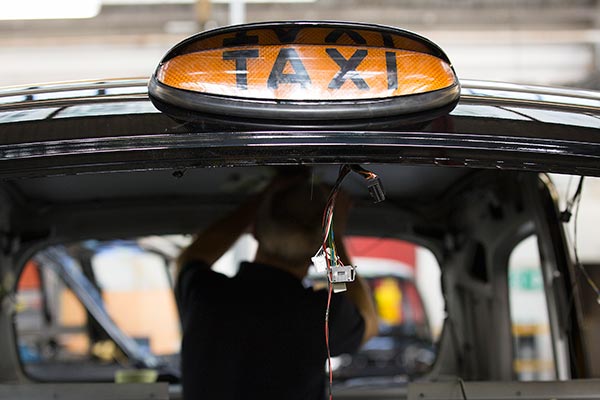 An employee works inside a black TX4 Euro 5 London taxi cab as it moves along the production at the London Taxi Company's assembly plant, a unit of Zhejiang Geely Holding Co, in Coventry, UK, March 13, 2014.[Photo/VCG]
Three years ago, London Taxi Co was bankrupt and Londoners faced losing their familiar black taxicabs. But thanks to Chinese automaker Geely, the re-energized company is about to introduce a radical change on the streets of London.
Geely's London Taxi unit will reintroduce the cab in the middle of next year. It will be more environmentally friendly, shifting from diesel to electric power, and more spacious, holding one more person than the previous car.
The new taxicab also features a wheelchair position that faces forward.
The prototype of the vehicle was unveiled in October during the state visit of President Xi Jinping to the United Kingdom.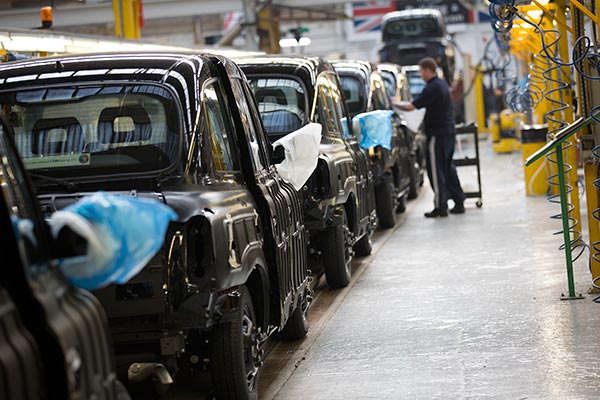 Black TX4 Euro 5 London taxi cabs move along the production at the London Taxi Company's assembly plant, a unit of Zhejiang Geely Holding Co, in Coventry, UK, March 13, 2014. [Photo/VCG]
"The model is designed to take on the challenges faced by many major cities, such as air pollution and over-crowdedness," Chris Gubbey, CEO of London Taxi, said on Wednesday.
Adam Soller, co-partner of London Photo Taxi Tour, a company that offers tourists a customized service in black cabs, said, "I really like that they kept the iconic design and can take on an extra passenger."
Soller added that, as a cab-driver, he is looking forward to buying the electric vehicle, although it will depend on the cost.
The company hasn't given details on the price of the new model.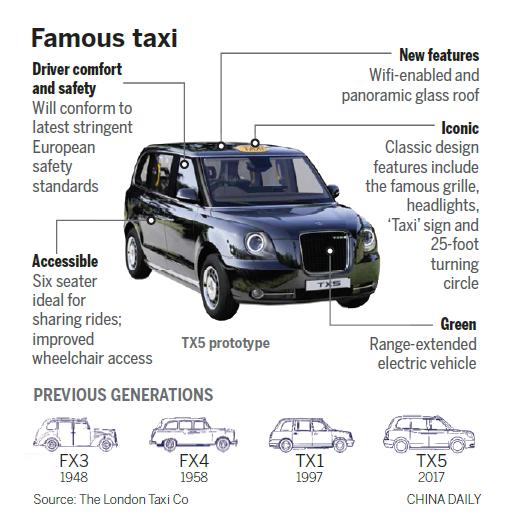 Although Londoners know them as black taxis, since black was the only color used for many years, all colors are now available.
The project began in 2013, right after Geely acquired the then-distressed LTC for 11.4 million pounds ($14.8 million).
"It's extremely lucky that Geely became involved," said Gubbey.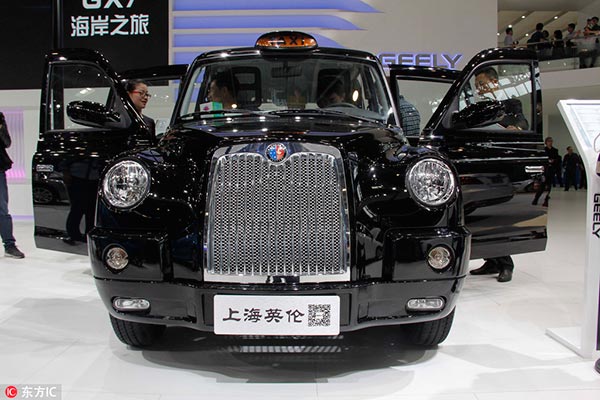 Visitors try out a Geely Englon TX4 taxi with the logo of The London Taxi Company on it during the 13th Beijing International Automotive Exhibition, also known as Auto China 2014, in Beijing, 20 April 2014.[Photo/IC]
Geely, whose headquarters are in Hangzhou and whose name literally means "auspicious" in Chinese, announced previously that it is investing 300 million pounds in LTC's new research and production facility, marking the largest such investment by a Chinese company in UK's green field.
The site under construction, at Ansty Park near Coventry in the English Midlands, includes about 30,000 square meters of production space and 6,000 square meters of office area. It will be the first new auto plant built in the country in more than 10 years.
Gubbey said LTC's relationship with Geely was more like a partnership. "Even if the company owns Volvo and LTC, it feels like you are in a partnership, instead of having a controlling entity."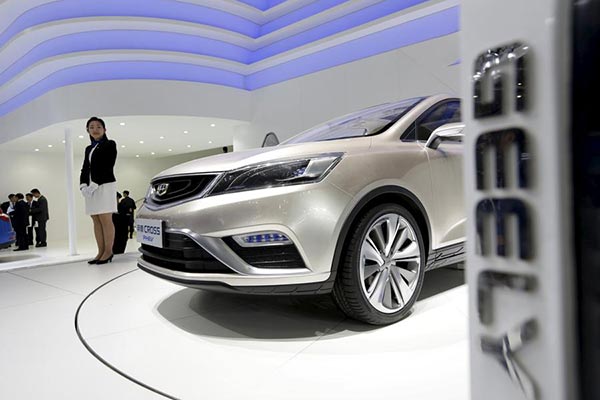 A Geely EC Cross concept car is displayed at Auto China 2014 in Beijing in this April 20, 2014 file picture.[Photo/Agencies]
According to LTC, production of the new car will begin in the middle of next year, with low volume initially and ramping up in September.
Gubbey said LTC is aiming for aggressive expansion outside the UK.
However, some London cab-drivers expressed a reluctance to share their icon.