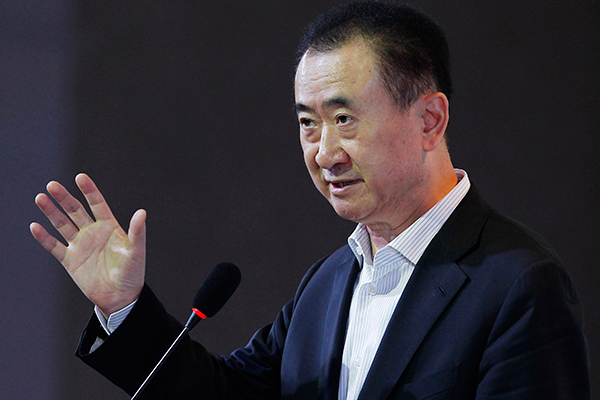 Wang Jianlin, chairman of Dalian Wanda Group Co. [Photo provided to China Daily]
Billionaire Wang Jianlin is headed for a record year of mergers and acquisitions as the Chinese tycoon seeks to build an entertainment empire that could challenge The Walt Disney Co by the end of the decade.
Wang's AMC Entertainment Holdings Inc raised its offer for Carmike Cinemas Inc on Monday, pushing the total amount of purchases completed or announced by the tycoon's companies to more than $16 billion this year. That's more than triple Wang's M&A total in 2015, according to data compiled by Bloomberg.
Most of the investments are going toward buying entertainment assets to transform Wang's flagship Dalian Wanda Group Co into a juggernaut with $200 billion in market capitalization and $100 billion of annual sales by the end of the decade. The idea is that China's push to shift the economy into a consumption-driven one, coupled with a growing middle class, will be a boon for the leisure industry.
Wang, who predicted in January that he'd pursue five "substantial" acquisitions-three of them overseas-in 2016, has been among the most prolific deal-makers in what's been a blockbuster year for mergers and acquisitions in China. Chinese companies have completed or announced an unprecedented $150 billion of overseas purchases in 2016, including China National Chemical Corp's record $43 billion bid for Syngenta AG.
Breaking down Wang's deals for this year, the Chinese mogul bought Hollywood producer Legendary Entertainment for $3.5 billion and is now seeking to inject it and other film-related businesses into his Shenzhen-listed Wanda Cinema Line Co as part of a $5.7 billion reorganization. AMC also agreed to buy Odeon & UCI Cinemas Group for $1.2 billion, expanding in Europe and widening Wanda's lead as the world's largest operator of movie theaters.
He's also reportedly in talks to buy a 49 percent stake in Viacom Inc's Paramount Pictures, though Wanda and Viacom representatives declined to comment on the matter.
The shift toward leisure is also being reflected in Wanda's financial results. The entertainment business saw sales rise 57 percent during the first half.
Though entertainment is the growth driver, Wanda's largest business remains property, the industry that Wang, 61, began making his fortune in and is now moving away from as revenue continues to drop. He's still making high-profile deals involving real estate after proposing to buy out his Dalian Wanda Commercial Property Co for $4.4 billion in what would be Hong Kong's biggest privatization deal ever. Wang, who's seeking to relocate the company's listing to the mainland to fetch higher valuations, will face a shareholder vote on the deal on Aug 15.
Beyond M&As, Asia's second-richest man in the Bloomberg Billionaires Index has also kept busy with other types of deals this year.
He announced a 3-billion-euro ($3.3 billion) retail and leisure development project outside of Paris and agreed to spearhead a $10 billion industrial park in the northern Indian state of Haryana.
Back home, he agreed to invest 15 billion yuan ($2.2 billion) in three hospitals, reorganized his flagship conglomerate to form a financial group and opened the first of his planned 15 Wanda City projects in China to fend off Disney's theme parks.
Bloomberg