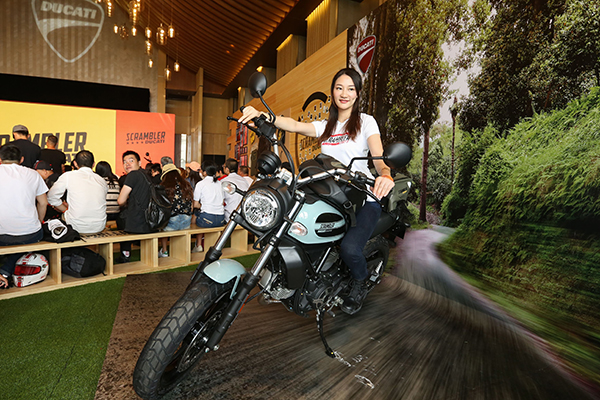 A woman tries a Ducati motorbike in Beijing. [Photo provided to China Daily]
You are not only what you wear, but for some of trendy Chinese, you are also what you ride.
Although the majority of Chinese cities have banned or restricted the use of motorcycles, Italian motorcycle manufacturer Ducati Motor Holding SpA saw its sales in China nearly double in the first half of this year, driven by people's desire to express their personality through the two-wheel iconic vehicle.
"More and more Chinese are starting to understand that motorcycles are not only for commuting but can also give themselves character," said Marco Elli, head of Ducati China.
The high-end motorcycle brand owned by Audi AG didn't reveal the exact sales figures in China but said its sales in terms of units in the country surged 92.7 percent year-on-year in the first half.
Ducati, which sold 54,800 motorcycles around the world in 2015, said that China was expected to overtake Japan, becoming the second-biggest market in Asia by the end of this year. About 13 percent of Ducati's sales were made in the Asian markets in 2015.
Elli said the typical Ducati buyers in China were "confident men aged between 32 to 40, who enjoy a quality life". With a plan to bring more Ducati products to China, he is expecting to see a much wider customer base there in the foreseeable future.
The price of a Ducati motor-bike in China ranges from 83,800 yuan ($12,560) to 489,000 yuan. That compares with the cost of a motorcycle license in Shanghai, one of the major markets for Ducati China, at about 150,000 yuan to 200,000 yuan.
"It is insane if you buy a pricey motorcycle license without buying a high-end motorbike," said Liu Yang, a motorbike fan in Beijing.
"The sales growth of high-end motorcycles would not surprise me," said Zeng Zhiling, managing director of LMC Automotive Consulting Co Ltd.
He said with the rise of the middle class and an increase in the number of rich people in China, the demand for collecting motorcycles and for pursuing driving pleasure is growing.