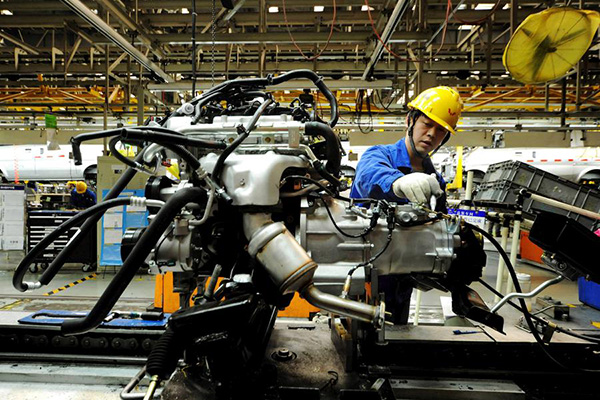 An employee works on an assembly line producing automobiles at a factory in Qingdao, Shandong province, March 1, 2016. [Photo/Agencies]
A new study of the world's top-earning 1 percent found that many more of them are from emerging economies than in previous decades, a trend largely driven by economic growth in China.
Advanced economies still contribute the majority of the world's top 1 percent of earners, with 79 percent of the share in 2012. However, the share was declining, at around 7 to 11 percent lower than it was between 1988 and 2005.
China's proportion of the global 1 percent, meanwhile, rose from 1.3 percent to 3.4 percent between 2005 and 2012, and was well above its 2002 share, which was a mere 0.2 percent.
"Although China is now, roughly speaking, the joint biggest economy in the world, it still has a much smaller share of the global top 1 percent than the United States, but it's clearly increasing, and it's increasing rapidly," said Paul Segal, senior lecturer of economics at King's College London.
Segal is co-author of "Who Are the Global Top 1%?", a paper to be published on Thursday by researchers at the University of Oxford and King's College. The study looked at household surveys and tax records from advanced and developing nations.
"China is the most important factor in increasing the share of emerging economies in the global top 1 percent," Segal said. "It's economic growth in China that's driving it, combined with the fact that inequality has risen a lot over the last 30 years or so. This means that while the incomes of almost everyone in China have gone up, the incomes of the rich have gone up more. Therefore, they are more likely to get into that global top 1 percent."
A single earner needed to make $50,000 a year after taxes to make it into the top 1 percent of global earners in 2012. Using purchasing power parity exchange rates-which take into account different purchasing powers in different countries-in China this translated to 185,594 yuan that year.
In addition to the downward trend in advanced economies' share of the top 1 percent, the study also found a decline in global inequality.
While Segal said he was "surprised and pleased" to find global inequality was on the downturn, he added that it remains higher than at any time before the 21st century.
"That means that all the tensions that inequality is likely to bring along are still there," he said.