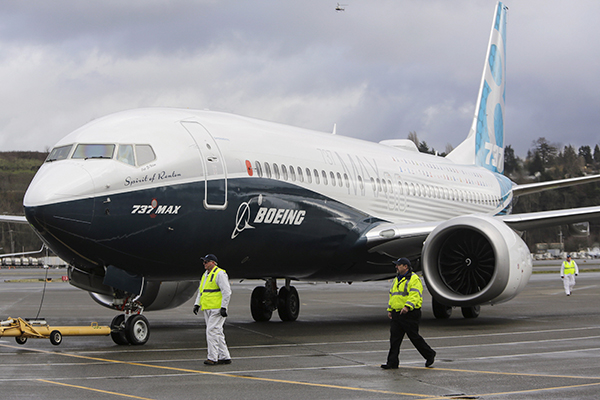 Ground crew members escort a Boeing 737 MAX as it returns from a flight test at Boeing Field in Seattle, Washington. [Photo/Agencies]
Boeing Co won an order for 25 737 MAX jets from Malaysia Airlines Bhd, as the Southeast Asian nation's flag carrier expands its fleet for the first time since two fatal air crashes in 2014 prompted the government to take over the company.
The operator also has options for 25 more, with the combined deal valued at $5.5 billion including the options, the airline said in a statement on Wednesday. Deliveries from the Chicago-based manufacturer are set to start in 2019. The New Straits Times earlier reported the impending order.
The order is for a mix of 737 MAX 8 and 9 models, which, according to Boeing, have a list price of $110 million and $116.6 million each.
The addition to its fleet may help Malaysia Airlines, which is in the midst of a 6 billion ringgit ($1.5 billion) business overhaul, compete against a slew of budget carriers in the region. Passenger confidence in the carrier, now fully owned by sovereign wealth fund Khazanah Nasional Bhd, took a dive two years ago after Flight MH370 vanished on March 8, 2014 and another was shot down over Ukraine four months later.
The Malaysian carrier currently has 56 737-800s, 15 A330-300s and six A380s in its fleet, according to its website.
The airlines this month named Peter Bellew as chief executive officer, its third in two years, adding the appointment will ensure continuity in the execution of the turnaround plan. The Asian carrier is ahead of schedule with its restructuring, having reached break even recently, putting it on course for a full-year profit in 2018 as targeted, if not earlier, former CEO Christoph Mueller said in June.
The plane purchases may help cut operating expenditure by about 15 percent, Bellew said on Wednesday.
This month, Boeing raised its long-term forecast for aircraft orders, saying the rise of discount carriers and growth in developing countries will fuel purchases despite recent economic turmoil from Brexit and a commodities slump.
Bloomberg