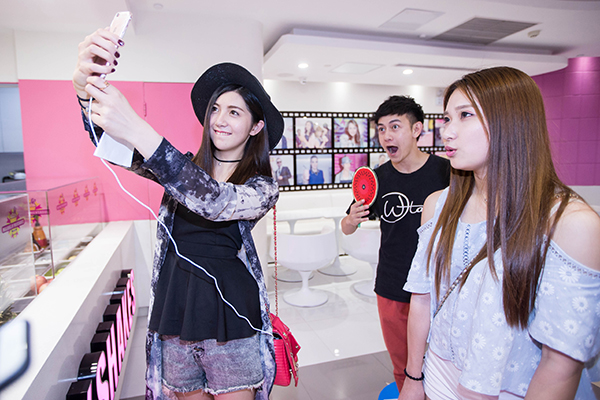 A cyber celebrity (left) live-streams her shopping experience from a mall in Hangzhou, Zhejiang province in June. Such "streaming" or hosts attract tens of thousands of viewers online. [Photo/China Daily]
Streaming smartphone apps package lives of ordinary people as content, capture young eyeballs, spin money
If reality TV is popular and entertainment profitable, how about combining the two to create an insanely real and unfailingly eyeball-grabbing genre? Chinese live video streams on smartphone applications such as the one-year-old Inke are doing just that.
In this realm, anything goes.
Sample: on one of Inke's live streams, a young woman wearing heavy makeup broadcasts herself eating lunch.
On another stream, a live camera captures a middle-aged man fast asleep and snoring away to glory.
Such fare is now the staple of tens of thousands of viewers of popular apps.
Real life of ordinary people, live-that's what the apps offer. And viewers, particularly the country's young generation, find it engrossing and entertaining.
"Rather than spending three hours traveling to a cinema to watch a movie, the post-1990 generation enjoys what we call fragmented entertainment," said Feng Yousheng, chief executive officer of Inke.
On Apple's China app store, in terms of both downloads and revenue, Inke topped the list multiple times in the past few months.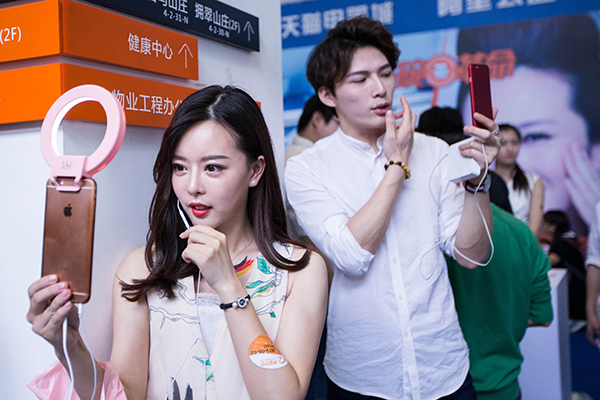 A woman and a man in a commercial live streaming event help sell essentials in Hangzhou, Zhejiang province. [Photo/China Daily]
"With a smartphone in hand, they (viewers) can watch whatever suits their mood, wherever they want. And if they feel they are having a good time (watching such content), they can spend a small amount of money to send virtual gifts to the stream's host and see their own names shoot across the screen like a bullet. That brings a lot of satisfaction (to such viewers)," he said.
What's more, the crass content has produced so-called grassroots stars who boast loyal armies of fans. Such stars make some real money. The apps pay them handsomely for their services. And, depending on their popularity, brand endorsements and paid appearances at events are conceivable.
"Hosts who are good at engaging viewers in an online conversation usually receive a bigger paycheck," said Feng.
The interactive nature of the apps is their biggest strength, said Feng. On his platform, the top-earning hosts make tens of millions of yuan a year by simply sweeping the viewers off their feet. Most of them do that by pandering to the demands of their viewers.
Such demands could be for a song, a smile or some honest answers. Smart hosts with a quick presence of mind thank gift-giving viewers in real time, making the latter feel good, as if they were the center of attention.
For their part, apps monetize eyeballs through advertising revenue. Valued at 3 billion yuan ($450 million) already, Inke is one of the more than 200 live streaming apps that have mushroomed in China in the past year.
A growing number of companies see huge potential in the country's mobile-video market.
At last count, about 106 live stream apps have secured funding of 2.37 billion yuan in 2015. Venture capital firms are chasing them. Such apps have become a necessity for China's top-tier internet companies.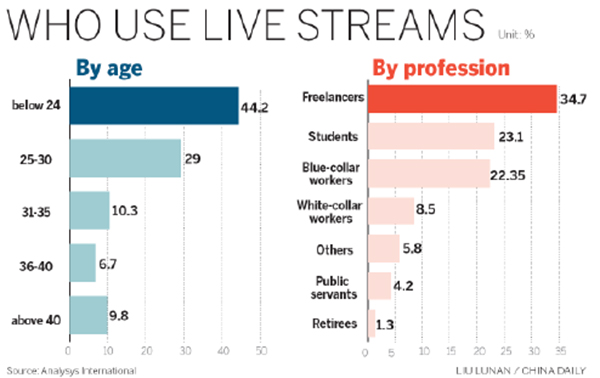 Tencent, Baidu and Alibaba have all marched into the segment either by launching their own platforms or by investing in existing players.
For instance, Xiaomi founder Lei Jun, who is dubbed China's Steve Jobs, has already launched several products via the company's own live streaming app. Such launch events include an online media conference.
His debut on the app attracted 80,000 viewers and earned him some virtual Ferraris, each worth thousands of yuan.
According to industry analysts, the live streaming apps segment in China is fast reaching a takeoff point, helped by the expanding 4G networks, which deliver improved mobile video viewing experiences via smartphones. The growing number of internet stars is another catalyst.
Given that few 20-somethings watch TV these days, backers of live streams are already forecasting a rosy future for the segment. They feel live apps may well prove an alternative to TV in coming years.
"For example, the Hunan TV station earns tens of billions of yuan in advertisement income every year. If a good host can bring in 10 million yuan in advertisements to an app, total ad revenue from 1,000 (such) hosts could equal that of a traditional TV station," Feng said.