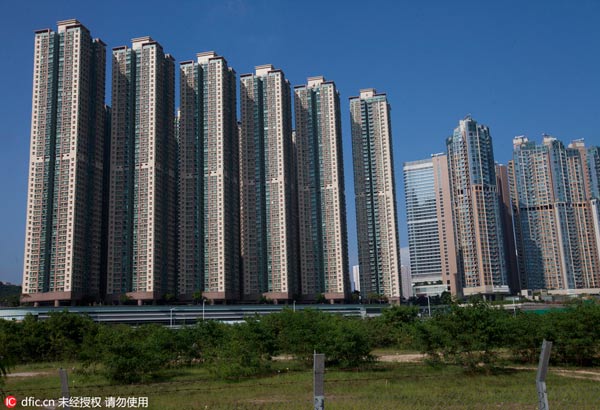 A view of residential buildings in Beijing, Oct 31, 2015. [Photo/IC]
Beijing's home price may continue to rise in the second half year, backed by a lack of new supply, industry analysts said.
New supply in the first-hand market are expected to continue to decline, and the majority of new supply will be located outside of the capital's Fifth Ring Road, according to a report by international real estate consultancy company Savills.
Meanwhile, future supply located inside the Fifth Ring Road will continue to be high-end projects, of which the Chaoyang and Fengtai districts are scheduled to receive the majority.
Despite both declines in first-hand residential new supply and transaction volumes, the first-hand residential price index continued to grow, up 5 percent quarter-on-quarter and 17.1 percent year-on-year by the end of May 2016, statistics from Savills showed.
Ines Li, associate director of Collier's research department, believed the price in Beijing will still grow in the second half year, given the existing supply and demand relationship.
"Currently, there are around 90,000 units of apartments available for sales in Beijing. The stock of 110,000 apartments is usually regarded as a benchmark: if the stock is higher than that number, home price will be under pressure," said Li. "The situation of demand exceeding supply will continue next year."
A research note from Hong Kong-listed Longfor Properties Co Ltd showed that the sales volume and price will remain stable in the third quarter while with the influx of a number of new projects in the fourth quarter, prices and transactions will see an increase again.
Longfor's sales surged 78 percent year-on-year to 38.6 billion yuan ($5.8 billion) in the first six months, reaching a record high, according to the company's statement to the Hong Kong bourse. The company is going to launch a villa project "The Orient Original" in Beijing in the second half year.
According to a research note from international real estate service provider JLL, a total of 541 units of high-end villa sold out during the second quarter, a surge of 106 percent quarter-on-quarter, and the price also climbed 5.1 percent.
Ocean Epoc, a villa project by Sino-Ocean Group, for instance, sold out its entire first-phase project within six months after it opened to sales and saw a sale of 2.5 billion yuan.
According to Zhang Dawei, chief analyst of Centaline Property, the demand and supply of Beijing's residential sector now stand at 8:1, thus fuelling the price increase in the coming months.