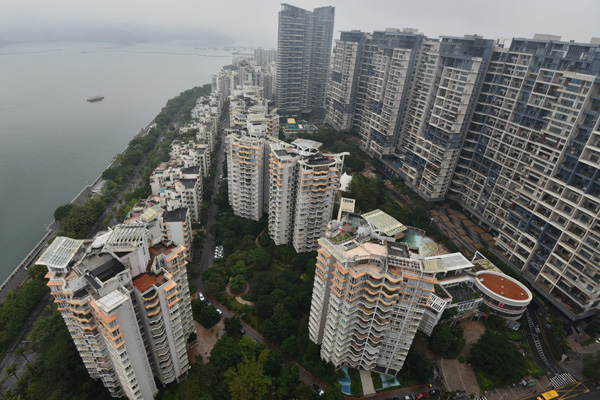 Residences facing the sea pictured in Sha Tau Kok, a town in Yantian District, Shenzhen, south China's Guangdong province, on January 21, 2016. [Photo/VCG]
Growth in domestic housing prices and property investment is expected to slow from the second half of 2016 to the second quarter of 2017, according to a report jointly released by the National Academy of Economic Strategy and Center for City and Competitiveness, two Chinese Academy of Social Sciences research groups.
As the property market warms up from the second half of 2015, the year-on-year growth rate of "total commercial housing sales area" turned positive from June, with housing prices continuing to climb. 
Since early this year, the rate of year-on-year growth in property investment has picked up. Its contribution rate to the gross domestic product (GDP) growth also reached 0.37 percent in the first half of this year.
In addition, compared to 2015, the first half of 2016 saw housing stock drop approximately 50 million square meters and the number of cities with rising housing prices increase.
Ni Pengfei, chief editor of the Annual Report on the Development of the Housing Market in China, said the recovery of the property market, which was reflected in prices rises, investment and de-stocking rate, was due to policy stimulation and changes in market expectation.
As for the excessive growth of housing prices in first-tier and some hot cities, central and local governments have adjusted some regulatory and control measures to cool down the overheating markets and make them achieve "soft landing", he said.
"A few cities overheat, while most cool down"- this kind of market differentiation is expected to further intensify, the report said.
Yin Zhongli, a researcher at the Institute of Finance and Banking at the Chinese Academy of Social Sciences, said changes in Shenzhen's housing price epitomized the trend of property market differentiation in China.
"Market diversity not only happens between different tiers of cities, but also exists in the inner of first-tier cities," he said. "In the previous periods of housing price rising, Beijing, Shanghai, Guangzhou and Shenzhen were all among the top and having small differences with each other. However, Shenzhen far exceeded Beijing and Shanghai last year, which had never happened before."
The government's real estate regulatory policy should ensure the housing market slows down stably and avoids drastic adjustment, to achieve long-term and sustainable healthy development, the report suggested.
It said the future's real estate control should focus on five goals, including promoting de-stocking, ensuring housing prices run smoothly, achieving moderate growth in investment, reversing mismatches between supply and demand in different areas, and preventing housing financial risk.