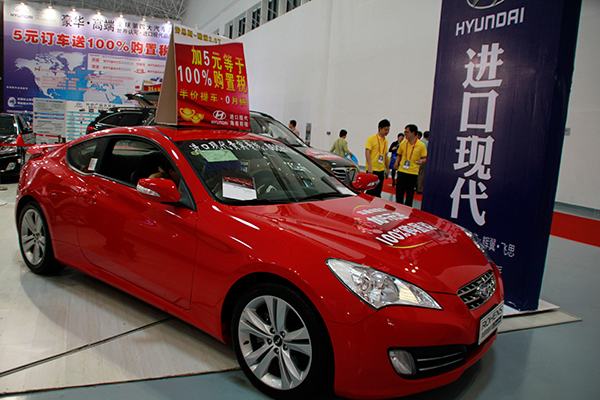 Hyundai Motor's imported Rohens Coupe is displayed at an auto show in Haikou, Hainan province. [Photo/China Daily]
After suffering years of losses, Hyundai Motor's imported car dealers across the country have joined hands to seek compensation from the automaker, claiming it had failed to offer sufficient products.
Almost all of the current 41 dealers established a working group to "safeguard their rights" earlier this month, as they were unable to reach an agreement with Hyundai Motor Group (China) Ltd.
The China Auto Dealers Chamber of Commerce has said it will support the dealers.
"We saw no bona fide in the talks with the heads of Hyundai imported car business unit and Hyundai China," said Wang Rongzhen, chairman of Nantong Hyundai Sales and Service Co in Jiangsu province, who is head of the working group.
"All of the 41 dealers had insufficient stock to sell," Wang said. "There were nine models in 2013, and six in 2014. The menu was shortened to three last year. I can only offer one model, the Hyundai Veloster, in my shop now."
According to Wang, the South Korean auto brand refused to supply the widely accepted Hyundai products towards the end of last year, and would only supply dealers with the high-end Genesis series.
Hyundai China raised the wholesale price for the Genesis series by 30,000 yuan ($4,491) at the end of 2015, similar to that of the BMW 5 Series, according to a local media report earlier this month. The report cited a dealer in Hubei province as saying that the Genesis' wholesale price left no room for the dealers to make profits, as customers expected a hefty discount.
The Korea Herald reported in June that the marketing divisions of Hyundai China and Beijing Hyundai Motor Co have been integrated and Hyundai China is going to market only the Genesis models as a high-end brand, with the Beijing Hyundai sales division providing both imported and domestically made Hyundai branded cars.
The most popular model last year among Hyundai China's imported products was the Santa Fe, which contributed 4,957 units, 57.6 percent, to the total 8,610-unit annual sales volume, according to statistics from LMC Automotive Consulting (Shanghai) Co.
The Hyundai Santa Fe went into local production by Beijing Hyundai Motor Co at the end of last year, so the model went to Beijing Hyundai's dealership network, and was delisted from Hyundai China's imported car network.
Paying price of merger
The 4S dealership network for Hyundai China imported cars shrunk from 79 in 2014 to 60 in 2015, and now there are only 41 left.
Some Hyundai imported car dealers tried to join the Beijing Hyundai Motor Co's network but were rejected, according to Wang.
John Zeng, managing director of LMC Automotive Consulting, suggested there might not be sufficient communication between Hyundai China and Beijing Hyundai.
"Beijing Hyundai will consider the benefits of its current dealers, and it is reasonable for it to reject some Hyundai China dealers," Zeng said.
"When there is such a merger of existing dealership networks, there will be a price to be paid. Some dealers might have no choice but to switch to other brands," Zeng added.
"They are forcing us to drop the claim and quit quietly and voluntarily. One dealer who quit received just the 300,000 yuan that was paid to Hyundai China to join the network,+" said Waang.
Besides paying the 300,000 yuan deposit, a dealership has to build the showroom in accordance with the brand's requirements.
"The refurbishing and decoration of my shop cost more than 20 million yuan," Wang said.
If a dealership quits the network and switches to another brand, the showroom needs another refurbishment to meet the new brand's requirements.
"Hyundai China should have compensated us, but they didn't," Wang said.