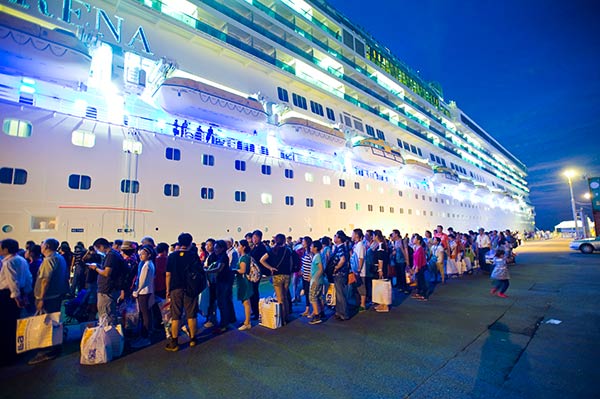 Chinese tourists wait for boarding a cruise liner after their shopping at Fukuoka, Japan.[Photo by Lou Dinghe/China Daily]
The cruise ticket is priced from 999 yuan ($152.3) to 4,999 yuan per night, according to the company.
In an earlier interview with China Daily, Edie Rodriguez, president of Crystal Cruises, said wealthy travelers from China have emerged as the dominant force in the travel industry.
"We see great opportunities to deliver luxury cruise services to them," Rodriguez said.
According to Rodriguez, Crystal Cruises' share of Chinese travelers will double from 2 percent in 2015 to 4 percent this year.
Genting Hong Kong, which is listed in both Hong Kong and Singapore, bought Crystal Cruises in May last year. The latter is regarded as the world's most-awarded luxury cruise line.
"We will launch new classes of vessels, including yachts and river boats, and offer ocean and flight travel-like experience," she said.