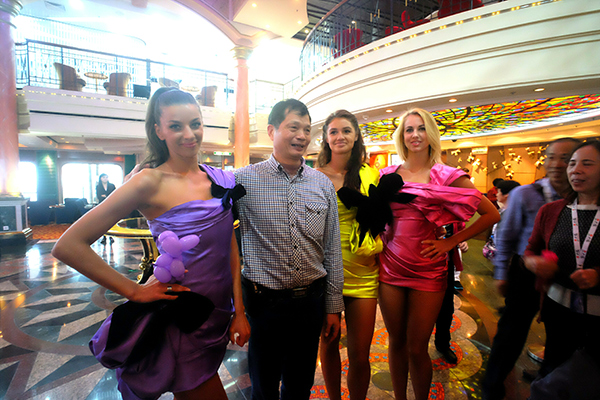 A tourist poses for a photo with performers on board a cruise liner departing from Guangzhou for Singapore. [Li Xiangxin/For China Daily]
Genting Hong Kong took on the bold initiative to grow the Asia-Pacific market as an international cruise destination with the founding of Star Cruises in 1993, building a strong reputation for top-class Asian hospitality.
"Integration of the head company's experience in luxury cruises over the past 20 years and understanding of the high-spending Chinese travelers' need will be a great advantage for us to create the new brand," said Brown.
Dream Cruises, which Brown said is the first-ever Asian luxury cruise line, will inaugurate its maiden ship, the Genting Dream, in November this year.
The maiden ship is set to sail from its homeport in Nansha of Guangzhou, the capital of Guangdong province, offering two- to five-night cruises to Hong Kong, Da Nang and Halong Bay in Vietnam, as well as Sanya in Hainan province.
Its sister ship, the World Dream, will begin operations in November 2017, according to a company source.
Both ships are currently undergoing fit-outs at Genting Hong Kong's newly established Lloyd Werft Group, which was an integration of Lloyd Werft shipyard in Bremerhaven and Nordic Yard's three shipyards in Germany.
According to Genting Hong Kong, the shipyards will capitalize on the growing demand for new cruise ships and realize the company's global expansion plans for its three cruise brands.
According to company sources, two mega cruise ships for Star Cruises and eight vessels for Crystal Cruises will be built additionally in the shipyards in the near future, with the first two ships being designed with "Chinese characteristics", which will be the first purpose-built cruise ships to be deployed for the Chinese market.
"Genting Dream, with its maiden cruises departing from Guangzhou, will be a response to the needs of Chinese travelers, as well as those from greater Asia," Brown said.