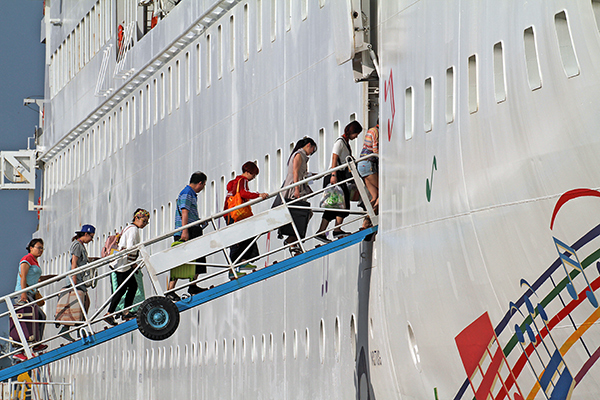 Tourists board the Chinese Taishan cruise liner bound for Sasebo and Fukuoka, Japan. [Tang Ke/For China Daily]
According to him, the company's expansion plans in the Chinese mainland include further moves into Xiamen, Fujian province, and a base in Sanya, offering services geared specifically to appeal to Chinese travelers.
Brown said Dream Cruises is aware of what is needed to expand its business in the highly competitive China market. The luxury sector has seen the entry of several leading international players into the Chinese market over the past few years.
"Genting Hong Kong has a history of over 20 years in the luxury cruise industry-that is the DNA for Dream Cruises. And we understand very well the needs of the Chinese travelers," Brown told China Daily.
The ship of Genting Dream, 335 meters in length and 40 meters in width, will feature Chinese arts, cuisine and other onboard entertainment facilities, according to Brown.
The ship will include the largest piece of "floating artwork" by eminent Chinese pop artist Jackie Tsai, who is famous for his work with international fashion designer labels Alexander McQueen and Shanghai Tang.
"The majority of our front line staff can speak Chinese and we will have Chinese spa services and offer the very best of Chinese regional, Asian and international cuisine," he said.