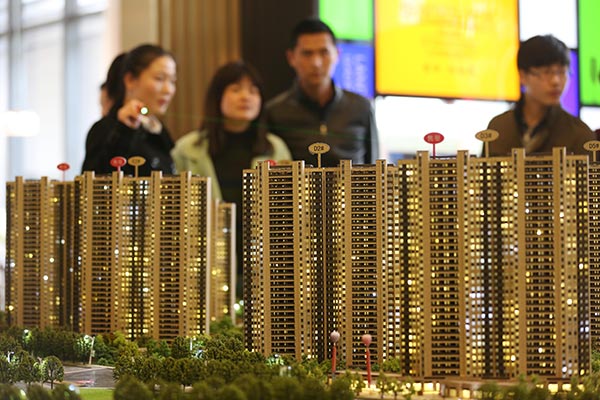 Potential homebuyers examine a property project model in Nanjing, East China's Jiangsu province, Feb 28, 2016.[Photo/VCG]
BEIJING - Rapid price growth of residential homes in Chinese cities -- and particularly in higher-tier ones -- could attract further regulatory tightening to moderate price growth, global rating agency Moody's predicted on Monday.
"Residential home prices for China's 70 major cities extended their rising trend in April 2016. First-tier cities continued to see strong price growth, although the upward momentum on a month-on-month basis is moderating, particularly for Shenzhen," said Franco Leung, a Moody's vice president and senior credit officer.
The number of cities registering year-on-year price increases rose to 46 in April from 40 in March, and the number of cities reporting year-on-year price increases of more than 5 percent rose to 17 from 14 over the same period.
Robust price growth in Shenzhen, Shanghai, Nanjing and Wuhan already triggered regulatory tightening in their residential property markets in late March 2016. Shenzhen registered the highest price growth, at 63.4 percent year-on-year in April 2016, followed by Shanghai at 34.2 percent, according to Moody's.
"We believe tightening in policy measures could be targeted at cities with strong price growth, but will not be applied uniformly nationwide. Policies will remain supportive in lower-tier cities, where property prices remain sluggish," added Leung.