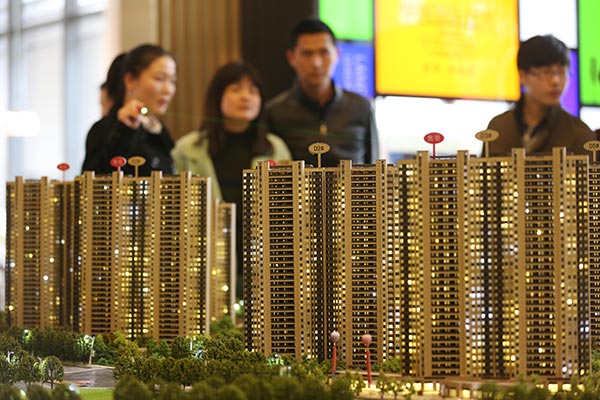 Potential homebuyers examine a property project model in Nanjing, East China's Jiangsu province, Feb 28, 2016. [Photo/VCG]
BEIJING - China's property sector continued to recover in April, with more cities reporting higher new home prices and the market divergence narrowing, an official survey showed on Wednesday.
Of 70 large and medium-sized cities surveyed in April, 65 saw new home prices climbing month on month, up from 62 in March, the National Bureau of Statistics (NBS) said.
Five cities reported month-on-month price declines, down from eight in March, according to NBS data.
Big cities recorded a slower pace in price increases, while smaller ones saw growth pick up, said NBS senior statistician Liu Jianwei.
In April, the average price growth in top-tier cities was 0.7 percentage points lower than in March, while that for second-tier and third-tier cities was 0.3 and 0.2 percentage points higher, respectively.
China's housing market started to warm up in the second half of 2015 after cooling for more than a year, boosted by government support measures such as interest rate cuts, transaction tax reductions and lower down payment requirements.
But the sector's recovery has been uneven from city to city, with economically strong areas reporting drastic price rises, and less developed ones showing a muted response due to a huge stock of unsold houses.
The contrasting picture has prompted local authorities to take different approaches: Shenzhen and Shanghai have tightened policies to curb speculative purchases and contain bubble risks, while third- and fourth-tier cities are exploring new ways to spur sales.
Those policies kicked in to some extent: In Shenzhen, second-hand home prices dropped 0.4 percent in April from March. Meanwhile, the average new-home price in third-tier cities returned to growth last month, NBS data showed.
On a yearly basis, 46 cities posted new-home price increases and 23 reported falls in April, compared with 40 and 29 in March, according to the NBS.
New-home prices soared 63.4 percent year on year in the southern city of Shenzhen, the sharpest increase last month among all the major cities.
Prices in Shanghai, Nanjing, Xiamen and Beijing also surged, up 34.2 percent, 22.6 percent, 21.7 percent and 20.2 percent year on year, respectively.
For existing homes, 51 cities reported month-on-month price increases in April and 10 reported lower prices, compared with 54 and 13 in March.