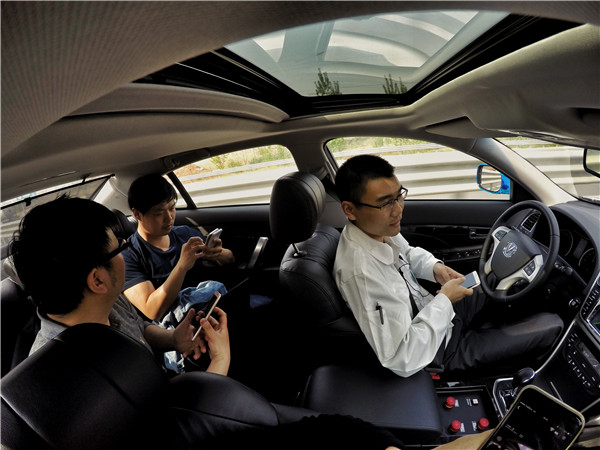 Engineers watch videos on their smartphones during a test journey from Chongqing in southwestern China to Beijing in April. The car used was an autonomous sedan developed by Chang'an Automobile Group.CUI LI/CHINA DAILY
The news that Baidu will participate in a citywide trial of autonomous vehicles signals the latest move in the internet giant's plans to become a major player in the burgeoning market.
Under a five-year agreement between China's biggest search engine and the city of Wuhu in the eastern province of Anhui, the company's autonomous cars, buses and vans will gradually be introduced to selected roads and zones before eventually being allowed to use public highways throughout the city. The vehicles will not carry passengers during the first three years of the trial period.
The agreement has seen Baidu potentially steal a march on its rivals in the sector, which was kick-started by Google's self-driving-car program in 2009. Since then, automobile manufacturers such as BMW, Volvo and Toyota have all become leading lights in the race to commercialize so-called robocars.
Now, as basic self-driving technologies become more mature, companies in the world's largest auto market are anxious to deepen their involvement in the sector.
"Currently, the major bottlenecks in replacing human drivers with robots lie in cost reductions, the upgrading of the transportation infrastructure and legal issues. China, which has a large automobile market and higher acceptance of self-driving technology, will have a competitive advantage," said Jack Yu, general manager of ResearchInChina, an auto industry consultancy in Beijing.
The race is just starting. Ahead of the Beijing Auto Show, which ran from April 25 to May 4, Chang'an Automobile sent two driverless cars on a six-day, 2,000-kilometer test journey from Chongqing in the southwest to the Chinese capital in the north.
In early April, the Swedish carmaker Volvo, which is owned by Zhejiang Geely Holdings-headquartered in Hangzhou, in the province of Zhejiang in East China-announced a plan to launch a self-driving experiment involving as many as 100 cars.
Chinese tech giants, such as Baidu and LeAuto-a subsidiary of Leshi Internet Information & Technology-are also engaged in self-driving technologies. Baidu started a research program in July 2014, and undertook its first fully automatic road test in December, while LeAuto unveiled the LeSEE, its concept driverless vehicle, on April 20.
"Worldwide, self-driving technologies are becoming mature. I'm optimistic that it will only be five years or so before we will be able to buy self-driving cars," Yu said.
The timeline accords with the plans of the major players: Google, Toyota, General Motors, and Nissan have all disclosed plans to put self-driving cars in the market by 2020.