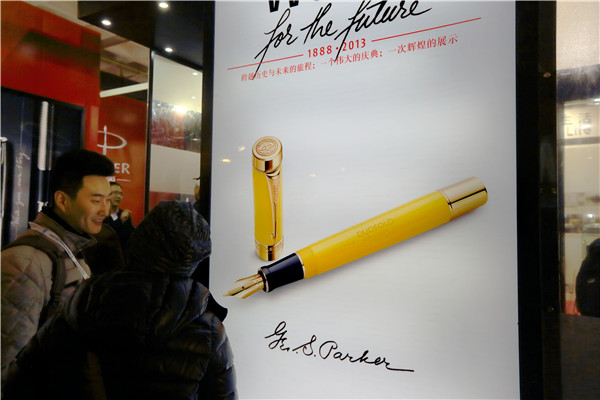 Two visitors stand in front of the Parker pen's billboard at an international gift fair in Beijing.A QING/CHINA DAILY
While fountain pens are becoming a thing of the past in most developed markets, sales of the writing instrument keep growing in China helped by the country's strong culture of offering gifts and a new interest in craftsmanship.
China is the world's biggest market for fountain pens, with sales of the writing instrument being higher in the country than in the whole of Western Europe combined, providing high-end stationery manufacturers with lucrative opportunities to expand their businesses.
Last year, sales of fountain pens rose to $341 million, an increase of 7 percent from 2014, according to Euromonitor International.
Parker Pen Co, one of the world's largest producers of writing instruments, first entered the Chinese market in the 1980s. Nowadays, the country is one of the group's largest sources of revenue.
Atlanta-based Newell Rubbermaid Co, owner of Parker, expects sales of the writing instruments brand to register an 8-10 percent growth in 2016.
"China is a market with a high potential and bright prospects," explained Rachel Goh, an associate brand manager at Newell. "The sales performance is increasing year by year."
What were luxury pens in the past are now affordable lifestyle accessories that fit well with China's gift-giving business culture. Small wonder, Parker generated 400 million yuan ($62 million) in sales revenue in China last year.
Parker, which was established in 1888, sells its complete portfolio of products in China, with the high-end Sonnet and the IM range pens being the preferred choices among Chinese consumers, particularly as a gift choice in urban areas.
This year, Newell expects to inaugurate three Parker flagship stores to meet increasing demand for its writing instruments.
"More and more Chinese consumers are pursuing higher quality in life," highlighted Goh from Parker. "They are also more willing to splurge on high quality or luxury stationery. That means, we can expect more and more business opportunities in this market."
The brand has now 400 franchises in 50 cities across China, particularly in department stores and shopping malls.
While sales volumes of premium fountain pens are expected to contract in mature markets like North America and Europe, they are expected to keep growing in China in the coming years.
"Perhaps the greatest achievement of the fountain pen-and ultimately the key to its endurance-has been its transformation from a workhorse of classrooms and offices into a personal luxury accessory," explained Rob Walker, an analyst at Euromonitor.
China's austerity campaign initiated by President Xi Jinping in 2012 has had a significant impact on the gift-giving culture. Consumers now prefer to gift top-quality pens in place of luxury watches and high-end spirits.
"There is evidence that brands such as Montblanc (Richemont) and Parker (Newell Rubbermaid) have benefitted from a shift toward less ostentatious gifts in China since 2012," added Walker from Euromonitor.